When it comes to breakfast, Pigeon Forge, TN does not mess around! Our Smoky Mountain city is home to more pancake houses and breakfast joints than just about anywhere else in the country. To help you make the most of your next vacation, we've put together a guide to 5 of the best places for breakfast in Pigeon Forge. We've also thrown in some great coupons for all of the restaurants!
1. Smoky's Pancake Cabin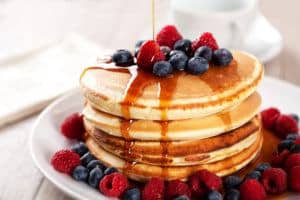 You simply can't go wrong at Smoky's Pancake Cabin! This family-run business is famous for its Pineapple Upside Down Pancakes, which feature caramelized pineapple, cream cheese icing, and cherries. Smoky's Pancake Cabin is also a can't-miss destination for biscuits and gravy, which can be enjoyed with chipped beef gravy or traditional sausage gravy.
Our Smoky's Pancake Cabin coupon is good for $5 off your meal that's $25 or more.
2. Bennett's Pit Bar-B-Que
Although Bennett's Pit Bar-B-Que is most well known for its mouthwatering BBQ plates, the restaurant also serves a mean breakfast. Guests can either order off a menu or enjoy Bennett's all-you-can-eat buffet. We recommend the breakfast bar because it is absolutely loaded with delicious food, including sausage, bacon, pulled pork, eggs, pancakes, french toast, biscuits, Belgian waffles, muffins, fruit, and so much more. (Please note: The breakfast bar may be closed due to COVID-19 restrictions, but you can still enjoy a delicious breakfast off the breakfast menu.)
For 15% off your breakfast, be sure to print out and bring this Bennett's Bar-B-Que coupon.
3. Flapjack's Pancake Cabin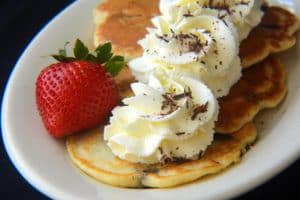 Flapjack's Pancake Cabin is another one of the best places for breakfast in Pigeon Forge. Praised by Southern Living magazine, Flapjack's has built a loyal following for its tall stacks of perfectly fluffy pancakes. Highlights of the menu include Grandma's Peanut Butter + Banana Pancakes and the Sticky Bun Pancakes.
To get a free order of the restaurant's delicious fritters, bring our Flapjack's Pancake Cabin coupon to breakfast.
4. Smoky Mountain Pancake House
Smoky Mountain Pancake House has been a beloved fixture of the Pigeon Forge Parkway since 1968! This excellent restaurant is famous for its scratch-made buttermilk pancakes, which come in a number of tasty varieties. Some of the most popular flapjack flavors include Reese's Peanut Butter Cup & Chocolate Chip Pancakes and Pecan Pancakes. In addition to their signature hotcakes, the Smoky Mountain Pancake House also offers great waffles, french toast, omelets, and other breakfast favorites.
You can save $5 with our Smoky Mountain Pancake House coupon.
5. Golden Corral
If you've got a hearty appetite, you'll love starting your day at Golden Corral. The restaurant's signature buffet is overflowing with amazing breakfast food, like eggs, bacon, pancakes, potatoes, waffles, grits, fruit, and made-to-order omelets. With so many options, everyone in your family is sure to find something they can't get enough of.
Print this Golden Corral coupon to get $5 an order of $25 or more.
Other Places for Breakfast in Pigeon Forge
Want to try even more breakfast restaurants in Pigeon Forge? While the 5 listed above are definitely some of the best, your options will feel endless when you visit this Smoky Mountain town. Stop by Mama's Farmhouse for an all-you-can-eat feast of your favorite breakfast foods, or visit IHOP for some of their famous pancakes! You definitely don't want to miss your chance to try breakfast at the Old Mill Restaurant. This special spot has been voted not only one of the top places for breakfast in Pigeon Forge, but one of the top places for breakfast in Tennessee!  You will always be able to start your day off right when you have breakfast at one of these restaurants in Pigeon Forge.
More Pigeon Forge Coupons
For even more discounts on restaurants, attractions, and lodging in the area, check out all of our Pigeon Forge coupons!