The best time to take a trip to the Smokies is in the fall. Temperatures will be dropping down to a comfortable level making it easier to get your loved ones to spend some time outdoors. The best part about fall is seeing the leaves change from green to orange, brown, and yellow. Tons of visitors come from all over the United States to witness the beautiful fall foliage. Here are 4 of the best places to enjoy fall colors in Gatlinburg TN:
1. Aerial Tramway at Ober Gatlinburg
While you're soaring through the sky on the aerial tramway at Ober Gatlinburg you can look out and see the beautiful fall colors. The tramway will take you to the Ober Gatlinburg Ski Resort as well as the amusement park. You can enjoy seeing the fall colors on the tramway and then spend a day of fun at Ober Gatlinburg. Your friends and family will love getting an aerial view of the Smokies, but especially when it is fall.
2. White Water Rafting with Smoky Mountain Outdoors
A really great way to see fall colors in Gatlinburg TN is to go white water rafting with Smoky Mountain Outdoors. While they are transitioning to more natural flow trips during the fall you can still enjoy a rafting trip that will be a more calm experience. The river guide will handle navigating the raft so you can sit back and relax. While you are rafting keep an eye out for any wildlife that could be passing through. You'll get a fun ride and a front row seat to the amazing season change.
3. Gatlinburg Parkway
As you stroll down the Gatlinburg Parkway to enjoy great Gatlinburg shopping, attractions, and restaurants you can also take in the amazing fall colors around you. Anywhere on the parkway you'll be able to see gorgeous mountain views. It's also a great place to people watch. You can plan a more casual day on your family's vacation, so they can hang out on the parkway and take in all the sights.
4. Bennett's Pit Bar-B-Que Outdoor Patio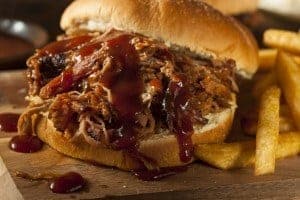 All this exploring can really work up an appetite. If you want to grab a bite to eat, but still enjoy the beautiful fall colors, then you can go to Bennett's Pit Bar-B-Que. They have an outdoor patio that is perfect for looking at fall colors and munching on some tasty barbecue. Fall is a good time to eat outdoors because the temperature will be comfortable. At Bennett's you can get a taste of all the classic BBQ options like ribs, pulled pork, and beef brisket. Guests love their homemade sauce and delicious sides. Your family will enjoy getting both a delicious meal and a breathtaking view of the many different fall colors. It'll be a vacation they'll remember for a lifetime.
Can't get enough of fall in the Smokies? Check out this blog post on fall hiking trails you can explore in the Great Smoky Mountains.