If you want to go out for a nice, sit-down dinner, you have plenty of steakhouses in Gatlinburg to choose from. Even if you don't want steak, these restaurants have a ton of options for everyone. Check out these top 6 steakhouses in Gatlinburg and the Smoky Mountains:
1. The Peddler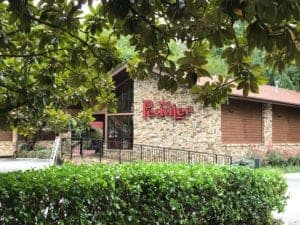 A great place to go to get steak is The Peddler. You can get filet mignon, New York strip, ribeye, and several other steak cuts. You could also get grilled chicken, fresh trout, grilled shrimp, or a combination dinner. With every entree, you'll get a salad and one side. Sides include baked potatoes, steamed vegetables, wild rice, and more. To go with your meal, you can get draft beer, several kinds of wine, or one of their cocktails.
2. Cherokee Grill
Another great steakhouse in Gatlinburg you should try is Cherokee Grill. Start out with an appetizer such as crab bisque, spinach and artichoke dip, egg rolls, or the seared ahi tuna. If you want a salad entree, you could get fresh seafood salad, Asian steak salad, or grilled chicken salad. They also have burgers and sandwiches, as well as fried chicken, baby back ribs, and herb crusted trout. When it comes to steak, Cherokee Grill has boursin filet, bleu cheese sirloin, and prime rib.
3. Crystelle Creek Restaurant
A unique steakhouse you should try is Crystelle Creek Restaurant. This restaurant is located in the Gatlinburg Arts and Crafts Community, and the grounds are covered in beautiful landscaping. You could even sit in a seat with a beautiful view of the river. You can get all kinds of steak, chicken, seafood, pasta, sandwiches, and salads. No matter what you're in the mood for, Crystelle Creek has it!
4. The Alamo
The Alamo is a local chain steakhouse in Gatlinburg, with another location in Pigeon Forge. Start out with bacon wrapped shrimp or mozzarella sticks. You'll find all kinds of seafood on their menu, such as stuffed shrimp and salmon oscar. They also serve oak fired pork chops, several grilled chicken entrees, and, of course, several cuts of steak. You'll want to save room for dessert so you can try the sea salt caramel cheesecake or the key lime pie.
5. Bullfish Grill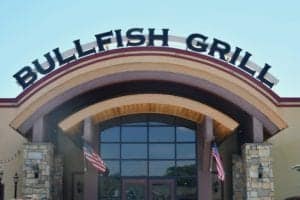 A steakhouse in Pigeon Forge that's a great option is Bullfish Grill. You'll feel like you stepped into a hunting lodge because of the rustic decor. Some of their signature dishes include seafood gumbo, baby back ribs, and chicken pasta. If you want steak, you can choose from hand cut sirloin, filet mignon, and more. Bullfish also has a huge list of wine, beer, and cocktails.
6. J.T. Hannah's
J.T. Hannah's has a little bit of everything if you aren't sure what you want to eat. They have ribeye, grilled steak fajitas, and sirloin. You can get fried catfish, fish and chips, or beer battered shrimp. There are all kinds of burgers and sandwiches, as well as chicken and pasta options. You'll want to save room for dessert and try their Big Orange Soak cake.
These steakhouses in Gatlinburg and the Smoky Mountains are just a few of the great places where you can eat. Want to save some money while you eat? Check our our dining coupons so you can save while you enjoy great food!