If you ever dreamed about being a wizard or embarking on a pirate adventure, you can turn your dream into a reality by visiting Magiquest in Pigeon Forge! This castle themed attraction features the world's largest live video game where you must solve the mysteries of the game! MagiQuest is home to several other exciting attractions too, including the world's largest mirror maze! Here are 4 fun attractions you need to experience at MagiQuest in Pigeon Forge:
1. MagiQuest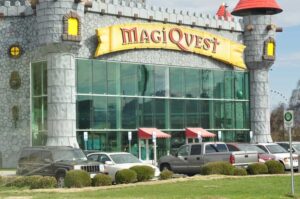 The premier attraction at MagiQuest in Pigeon Forge is the MagiQuest game itself, where you get to use magic wands to solve the mysteries of the game! After entering into this enchanted fantasy world, you will embark on a quest with other players for a unique role playing adventure. Whether you are visiting Pigeon Forge with your family or with a group of friends, everyone will love this exciting and fun attraction! You can purchase tickets just for Magiquest, which includes your choice of magic wand and a 90 minutes gaming experience, or go for the combo package that includes all of the other attractions!
2. Pirate Golf
Set sail for a fun miniature golf adventure with Pirate Golf at MagiQuest in Pigeon Forge! This awesome 18 hole mini-golf course is set among a Caribbean pirate village where you will play across a pirate ship, be entertained by the villagers, and get to search for the hidden treasure! If you are lucky enough to score a hole-in-one on the 18th hole, you will even be serenaded by Blackbear and his pirate friends! Since this action packed blacklight course is completely indoors, you never have to worry about rain or other inclement weather spoiling your fun!
3. The Vault Laser Challenge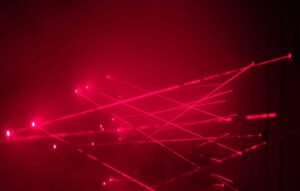 Try your skills at navigating through a tricky laser maze in the Vault Laser Challenge! This interactive attraction at MagiQuest in Pigeon Forge features rooms full of laser beams where you must duck, twist, and turn to avoid the beams! After reaching the end, stop the timer and see how your time ranks against your fellow visitors. If you are particularly skillful, you might even make the top 10 list! You will want to try the Vault Laser Challenge over and over to try to get your best time!
4. Odyssey Mirror Maze
Experience the largest mirror maze attraction in the world in the Odyssey Mirror Maze at MagiQuest! This 5,000-square-foot maze is twice as large as the world's second largest mirror maze, which means it's quite a challenge to find your way to the exit! Once your senses have adjusted to the endless hallways and dancing lights, you will find yourself among the infinity room, holograph hallway, and the dancing room! This is not your typical carnival mirror maze attraction but an adventure that is sure to be a highlight of your vacation to Pigeon Forge!
Check out our coupon for MagiQuest in Pigeon Forge today to enjoy discounted admission to this magical and enchanting attraction! Be sure to browse our other amazing coupons too for incredible savings throughout the Smoky Mountains!