What's Happening in the Smokies?
With twinkling lights and holiday delights, winter is a special time to visit the Smoky Mountains. The 34th Annual Smoky Mountain Winterfest Celebration will soon be glowing bright – with more than 15,000,000 lights decorating the Parkway in Sevierville, Pigeon Forge, and Gatlinburg, Tennessee. Combine that twinkling beauty with holiday attractions and shows, shopping, and great places to enjoy warm winter meals and you've got Smoky Mountain Winterfest.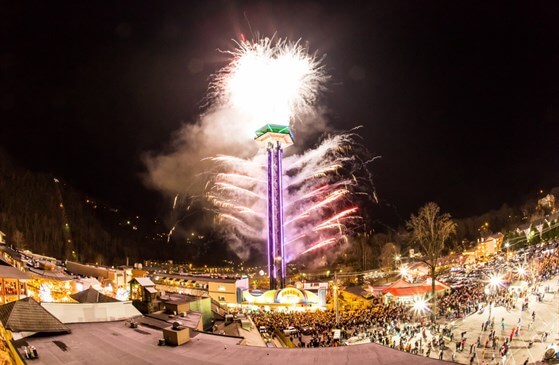 The newest light display in town is at SkyLand Ranch, a 100-acre mountaintop ranch located just off the Parkway in Sevierville. SkyLand's Festival of Lights at the Ranch will take place November 3 – February 18, from 6 pm – 9 pm nightly and feature light displays, holiday movies, live entertainment and more.
Wilderness at the Smokies will once again be transforming its outdoor waterpark into Winter Wilderland – complete with holiday snacks and treats, scheduled live entertainment, and a fun ice-skating rink for all to enjoy with family and friends (Nov. 10 – Jan. 15). Tickets to Winter Wilderland  (and the skating rink) are open to both Wilderness guests and the public.
Next door at Soaky Mountain Waterpark, Shadrack's Christmas Wonderland (Nov. 17 – Jan. 7) is back with a longer-than-ever route and a plethora of lights in this visual extravaganza that is perfectly synchronized to the Christmas music played over your car radio. Their new custom-built, giant, all-LED displays are guaranteed to delight.
If you are planning to visit for Winterfest, take care to choose the perfect place to stay. Settle into a cozy cabin all decked out for the holidays or choose a fun indoor water park resort so the kids can splash and play on vacation. Try glamping, stay in a treehouse, or reserve a great hotel in the middle of all the fun. Campgrounds and RV resorts also welcome visitors during Smoky Mountain Winterfest.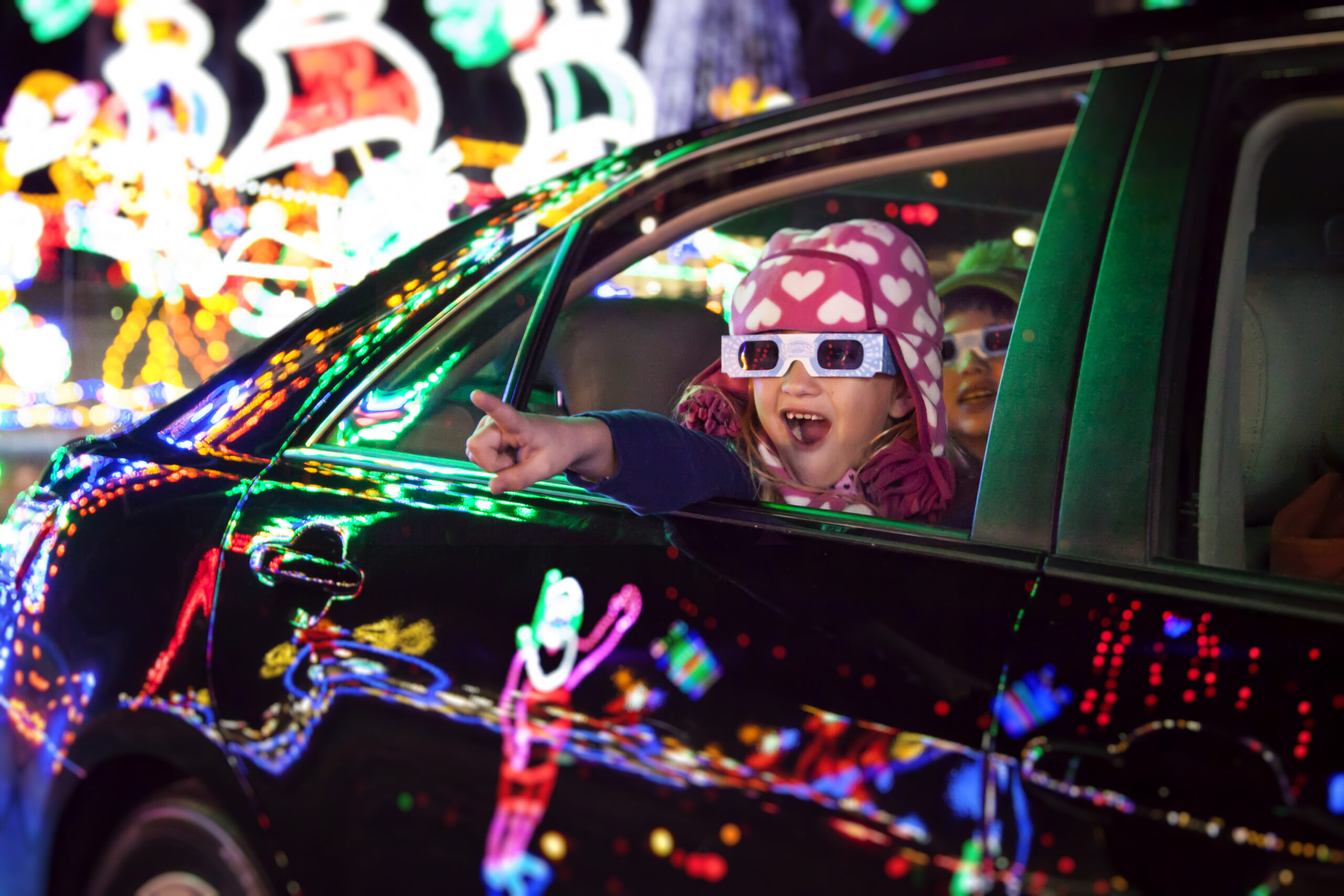 After-Thanksgiving shopping is nothing short of an event in Sevierville. Popular retail centers like Tanger Outlets Sevierville begin their major sales on Black Friday and run them throughout the      weekend. Check out huge sales at other popular stores including Bass Pro Sevierville, Smoky    Mountain Knife Works, and many more for amazing Black Friday and after Thanksgiving weekend sales.
Make plans to attend the Christmas at the Courthouse tree lighting on December 1 from 5:30 pm until 8:30 pm in historic downtown Sevierville. Then return the next morning for Sevierville's 61st Annual Christmas Parade on December 2 beginning at 11am. This hometown Christmas Parade is a holiday delight and winds its way through historic downtown Sevierville.
Did you know that each year a new, official Smoky Mountain Winterfest shirt is designed to commemorate the event? The 34th Annual Smoky Mountain Winterfest long sleeve t-shirt will go on sale at the beginning of November and be available exclusively at city operated welcome centers in Sevierville, Pigeon Forge, and Gatlinburg.
Visiting Smoky Mountain Winterfest each year is a wonderful tradition for family and friends. From snow skiing and ice skating to shopping, shows, and enjoying all the lights – Smoky Mountain Winterfest is a holiday tradition worth making your own. Discover more things to see and do, places to shop, and memories to make together at this year's Smoky Mountain Winterfest.
Enjoying the Winterfest lights creates memories that last a lifetime, and whether you are traveling by car or trolley, they create moments of wonder and delight. This year there is a new option for viewing the Winterfest displays… from the sky. Scenic Helicopter Tours is offering nighttime flights where you can soar above the glowing skyline of the smokies. It is a brand new and amazing way to experience the lights of Winterfest! Call Scenic at 865-355-0828 for details.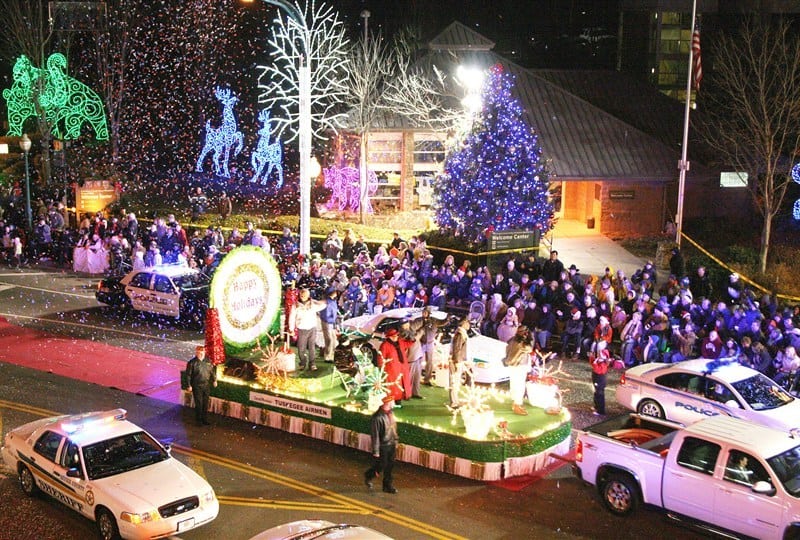 OTHER SMOKY HAPPENINGS
If you are visiting the smokies during this Christmas season, here are just a few of the Smoky Mountain offerings that are sure to get your family ready for Saint Nick and all the holiday cheer that you can handle.
The Smokies are known for amazing shows and award-winning performers. During the Holidays, area theaters transform into winter wonderlands, presenting unforgettable shows that you do not want to miss. The newest theater in the area, Array, is running their Christmas Variety Show throughout the month of December. The long-standing favorite theaters have their Christmas show's returning this year as well. Dolly Parton's Stampede will pit the North and South Poles against each other, the Hatfield and McCoy Christmas Dinner Show has a feuding Christmas feast, and the Comedy Barn brings laughs and clean family comedy to center stage, as all three theaters run their Christmas specials throughout December 31st. The Country Tonite Theatre blends the best live country music in the smokies and a joyous celebration of Christmas in The Magic of Christmas Show. Paula Deen's Lumberjack Feud Christmas Show will run until January 7th, as they pit the countries best Lumberjacks against each other in a real Christmas competition. With so much variety and amazing talent, there is sure to be a show that will make this Christmas an unforgettable experience for you and your family!
The longstanding family tradition of getting your children photographed with Santa has never been easier than it is in the smokies. If you are visiting Gatlinburg, be sure to take your little ones to Ripley's Aquarium of the Smokies from Dec. 1 – Dec. 23 for their Santa meet and greet. If you are in Pigeon Forge during a weekend in Dec. there are a few options for you to choose from. The Island in Pigeon Forge will have the big red guy on Dec. 2, 9, 16 and 23. Mixing it up a bit, you can get photos with Santa and the Grinch at some great Pigeon Forge attractions. Crave Golf Club on Dec. 2 & 16, Toy Box Mini-Golf on Dec. 9, Sky Pirates of Mermaid Bay on Dec. 19 and Lumberjack Feud every day until Dec. 22 will have Santa available for pics and the Grinch as well, alternating times to make sure that Santa doesn't have to face the green grouch.
As if this wasn't enough, Beyond the Lens features their amazing Polar Express Journey to the North Pole FlyRide all of December. Sevierville will have thee 61st Annual Christmas Parade on Dec. 2, and of course Dollywood has Dolly's Smoky Mountain Christmas running until Jan. 6th at Dollywood.
Ober Mountain is the perfect place to welcome Winter. Atop Ski Mountain, Ober is opening their snow tubing fun on Nov. 18 and the action will run all winter. The entire month of December, be sure to jump on the tram to experience the 25 Days of Ober, where daily activities include ornament decorating, gingerbread cookie decorating, face painting and special readings of the Night Before Christmas. On Dec. 2, 9, 16 & 23, be sure to bring your kids to have their pictures taken with Santa, and you do not want to miss the Ober Mountain Ice Festival on Dec. 2 & 9. Ice carving displays and live demonstrations, a 30-foot-long ice slide and so much more will fill the mountain fun at the one and only Ober Mountain this winter… and of course, there is always skiing and snowboarding at Tennessee's only ski slopes!
If you find yourself in Gatlinburg this winter, there are two traditions that cannot be missed. First is the Fantasy of Lights Christmas Parade on Dec. 1st along the Parkway in Gatlinburg. Festive floats filled with lights line the main road of Gatlinburg at one of the Nations most celebrated holiday parades. Finally, ending the new year in Gatlinburg is the New Year's Eve Lights of Wonder! Located at the Space Needle in downtown, but visible from almost anywhere, this New Year's Eve event is the perfect way to ring in the New Year with family and friends. With so much to see and do, it is no wonder that winter in the smokies is unlike any other holiday tradition!