The Island in Pigeon Forge is one of the most popular attractions in town with plenty of activities for you and your family to enjoy! It's easy to work up an appetite when you're having fun at this action-packed attraction. Luckily, there are lots of places to grab a bite to eat before getting back to your adventure. To help you have the best dining experience possible, we've put together a list of the top 5 restaurants at The Island in Pigeon Forge.
1. Paula Deen's Family Kitchen
If you're visiting The Island in Pigeon Forge with a larger group, Paula Deen's Family Kitchen is a perfect choice. This full-service restaurant features a nearly 300 set dining area, as well as tiered seating that provides guests with a fantastic view of the Show Fountain and the mountains. Order up endless portions of delicious Southern dishes, served family style, and you'll see why this restaurant is one of the best!
2. Margaritaville
Another one of the best restaurants at The Island in Pigeon Forge is Margaritaville! Inside, you'll find a number of unique dining spaces, a concert stage, and multiple bars. There's also a large exterior deck where you can overlook the Little Pigeon River and listen to live music. From tasty appetizers like artichoke dips and jumbo pretzels to scrumptious entrees like BBQ ribs and jambalaya, this restaurant has it all! Of course, you'll have to give their famous margaritas a try, and there are plenty of flavors to choose from!
3. Mellow Mushroom
The pizzas at Mellow Mushroom are hand-tossed and baked on the stone. You can order up some of the most popular menu items from this well-loved chain restaurant over the counter. Their pizzas are unique to say the least, with a variety of options to choose from, as well as all of your favorite classic toppings.
4. Timberwood Grill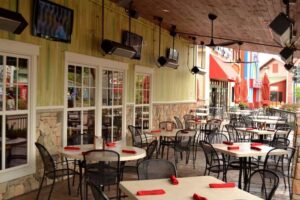 Timberwood Grill is well known for its delicious half pound, Angus beef burgers and USDA choice steaks! There are also a variety of draft beers, Sutter Home wines, and other drinks for you to pair with your meal. You can even get certain drinks for $3 during their happy hour which is from 3 p.m. to 6 p.m. The hearty food and delicious drink creations are sure to have you walking away satisfied!
More Restaurants at The Island in Pigeon Forge
We've told you our 4 favorite restaurants at The Island in Pigeon Forge, but now it's time to figure out which one is your favorite! Whether you're in the mood for a snack or want to enjoy a hearty meal, you'll have plenty of options for places to eat at The Island. Dick's Last Resort is another popular restaurant, and Cinnabon, Auntie Anne's and The Island Creamery are all great options if you want a snack. You can't go wrong anywhere you choose to dine at The Island.
You'll never go hungry when you spend your day at this exciting attraction! There are so many great restaurants at The Island. Check out our coupon for The Island in Pigeon Forge today to enjoy a discount for some of the amazing activities inside! Also, be sure to browse our other coupons for unbelievable savings throughout the Smoky Mountains!