Each year, thousands of visitors come to the Great Smoky Mountains to celebrate the holiday season. There is no better place to celebrate Thanksgiving than in the Smokies. You'll get to see the beautiful fall foliage, feel the cooler temperatures, and experience all the holiday fun happening around town. You'll create beautiful memories with your friends and family when you take them on a trip to the mountains. Here are 4 fabulous ways you can celebrate Thanksgiving in the Smokies.
1. Take a Fall Hike
Fall is the perfect time to hit the trails at the Great Smoky Mountains National Park. You and your family can even make it a tradition. It's a lot easier to convince your family to spend time outdoors when the temperatures outside are cooler. You can even choose an easy hiking trail that everyone can do.
Insider Tip: Don't forget to bring a camera so you can capture the beautiful fall setting. Also remember to dress in layers according to the weather forecast.
2. Eat a Thanksgiving Feast at Mama's Farmhouse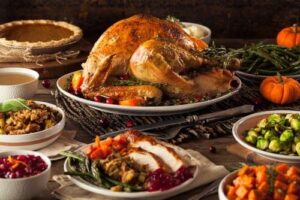 There is a lot that goes into preparing the perfect meal for your family's Thanksgiving. But sometimes you just don't feel like cooking. That's why a lot of restaurants in the Smokies are open on Thanksgiving because they know sometimes you just feel like going out to eat. One of the best places to eat a Thanksgiving feast is Mama's Farmhouse. They offer delicious southern cookin' and a special menu on Thanksgiving. It's one of the best ways to spend Thanksgiving in the Smokies.
Insider Tip: Be sure to call ahead and make reservations especially if you have a party of 6 or more.
3. Go Ice Skating at Ober Gatlinburg
Ober Gatlinburg has one of the best ice skating rinks in town. Your family will love skating around and it's a great way to get in the holiday spirit. If you've never tried ice skating before, then now is the perfect time. It's one of those activities that you have to try at least once in your life. Remember to bring a coat and gloves because it can get pretty chilly in the skating rink.
Insider Tip: You can purchase a wristband that includes several different attractions including ice skating. This way your family can make the most of your trip to Ober Gatlinburg.
4. See the Smoky Mountain Christmas Lights Display at Dollywood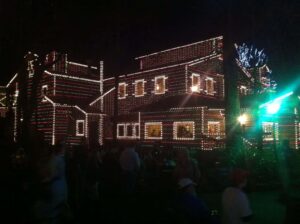 There is no better way to gear up for the holidays than by walking around Dollywood and taking in the Smoky Mountain Christmas lights display. The whole park will be decked out in Christmas cheer. Your family will enjoy eating a Thanksgiving meal and then walking around the park to burn off some calories. Every night of Smoky Mountain Christmas you can see the Parade of Many Colors. The parade will take place each operating night of the celebration and it is one of Dollywood's best holiday traditions.
Insider Tip: Rudolph the Red-Nosed Reindeer and friends will be taking pictures with guests at the Holly Jolly Junction. It's the perfect photo op for the kids.
You can enjoy all of these fun activities during your Thanksgiving in the Smokies. Browse these other Smoky Mountain attractions to see what you can add to your vacation itinerary.