If you are looking for the most action-packed entertainment in Pigeon Forge, look no further than Paula Deen's Lumberjack Feud! This jaw-dropping show features 90 minutes of competitive lumberjack events with the Dawson and McGraw families' world-class lumberjacks! You can save big on this show with a coupon from Smoky Mountain Navigator! Here are 5 reasons to use our Paula Deen's Lumberjack Feud coupon:
1. Huge Cost Savings
The most obvious reason to use our Paula Deen's Lumberjack Feud coupon is to take advantage of the huge cost savings! Our coupon allows you to save money for everyone in your family. You will have more money to spend on other attractions throughout Pigeon Forge, including the adjacent Lumberjack Feud Adventure Park where you can compete in your own lumberjack events or ride the thrilling Flying Ox zipline roller coaster.
2. No Date Restrictions
Our Paula Deen's Lumberjack Feud coupon has no date restrictions so you can use it on any performance! There are shows all year long so it doesn't matter whether you are planning a Smoky Mountain vacation during the winter or the summer. The event takes place in a climate-controlled grandstand so you will be comfortable in any weather. As for the lumberjacks, they are tough and can handle any type of weather condition!
3. Fun for All Ages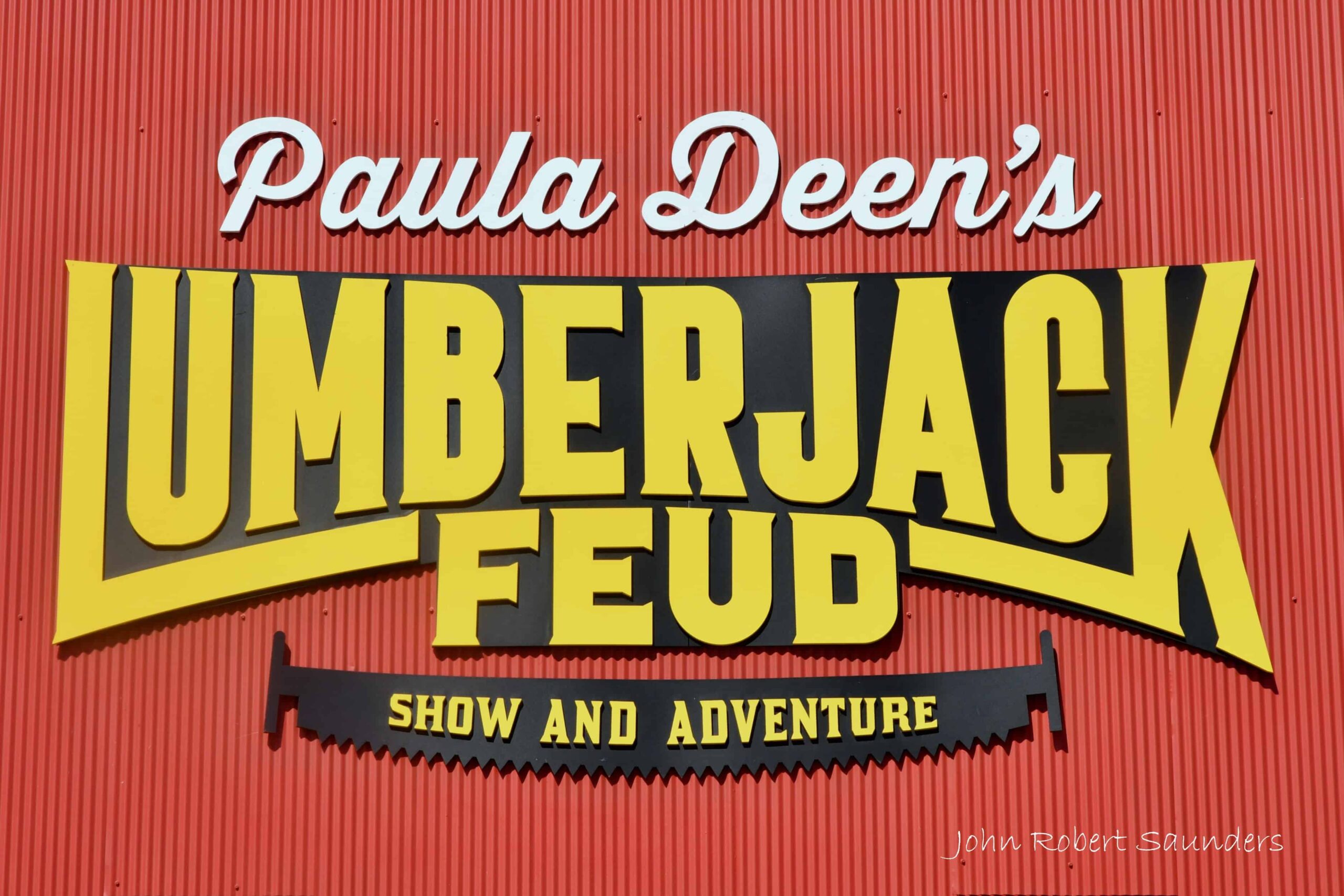 Paula Deen's Lumberjack Feud is a show that is fun for all ages, so use our coupon for everyone from your kids to your grandparents! As your family kicks back in the grandstand, watch the lumberjacks compete in 13 fast-paced tests of skills ranging from chopping and axe throwing to tree climbing and log rolling. You even get to become part of the experience and join the competitive spirit as you cheer on your Dawson or McGraw lumberjack family! There is also a special kids event during the intermission your children will love!
4. Convenient Location
Another reason to use our Paula Deen's Lumberjack Feud coupon is because the show is conveniently located on the Pigeon Forge Parkway. Whether you are staying in a hotel, condo, cabin, or campground in Pigeon Forge, the grandstand is just minutes away. The show location also makes it easy for you to enjoy a meal before or after the performance. In fact, you will find several restaurants right in Lumberjack Square that are perfect for lunch or dinner!
5. Valid for Unlimited Number of Tickets
Our Paula Deen's Lumberjack Feud coupon does not have any restriction on the number of tickets, so you can use it for every person in your group! You only need to bring one coupon whether you are purchasing tickets for a large family or a group of friends. The show is especially fun with a group and is sure to create some wonderful memories to last a lifetime!
Check out our Paula Deen's Lumberjack Feud coupon today to save money on this incredible show in Pigeon Forge! Also, be sure to browse our other amazing coupons to save big throughout the Smoky Mountains!