Are you finding yourself missing the Smoky Mountains and wish you could be here? You can still have fun with us through virtual tours and interactive online activities from Smoky Mountain attractions! From escape games to animal feedings, you have a ton of cool things you can experience online! Here are 5 virtual tours and interactive activities from Smoky Mountain attractions:
1. Adventures of Sasquatch at Anakeesta
Since no one is at Anakeesta right now, Sasquatch can come out and enjoy some alone time! You can watch what Bigfoot does at Anakeesta through "Adventures with Sasquatch." It's a video series on their Facebook page. He browses through the shops and walks around Firefly Village. You and your family will have fun seeing what Bigfoot does next!
2. Virtual Game at The Escape Game
If you love mind games and puzzles, then you have to try the virtual escape game at The Escape Game. It is called Unlocked: The Heist. You are working as a secret agent to find an art thief. You can play by yourself or with up to 4 other people. You must solve clues and do puzzles to move through the game. You'll have a blast doing this virtual escape game at home!
3. #OberCast at Ober Gatlinburg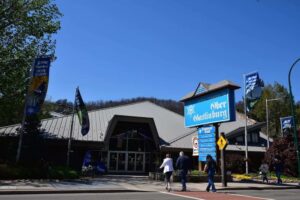 Ober Gatlinburg has started a new online series called #OberCast. It is an event that begins every day at noon on their Facebook page. They feature many of the attractions in the videos, answering questions and making the virtual tour fun. You will also get to see wildlife from the Wildlife Encounter at Ober. Each day of the week is for a different section of the Smoky Mountain attraction. The days of the week are as follows: Monday Funday, Trendy Tuesday, Wildlife Wednesday, Throwback Thursday, Foodie Friday.
4. Ripley's Aquarium of the Smokies Online Events
Ripley's Aquarium of the Smokies has all kinds of fun things going on. There are multiple events every day, from feeding different animals in the aquarium to answering questions about how things are done there. You can watch many videos of animal feedings and learn all about these unique creatures. Plus, you can always watch the penguin live cam!
5. Virtual Tour of Gatlinburg SkyLift Park
Have you ever been to the Gatlinburg SkyLift Park? Now you can go there virtually! The video is an hour long, and you will make your way up the side of the mountain in the chair lift. Then you will step onto the SkyDeck and explore the observation deck. There are incredible mountain views, and you'll be seeing them at dusk. Then, you'll walk across the SkyBridge and look down into the forest below on the glass panels in the middle of the bridge.
These are just some of the virtual things you can enjoy at these Smoky Mountain attractions. Want to know what other attractions you can enjoy in person on your next trip to the Smokies? Check out all of these attractions in the Smoky Mountains.