Vacations are fun because you get to go someplace different and experience new things! But with all the choices of places to go and things to do, which ones are the must-see's and which ones aren't? To help you out, we've got 6 great Pigeon Forge attractions that you just can't miss on your next vacation!
1. Dollywood's Splash Country
When it comes to the best place to cool off and the best place to get beavertails, and trust us you want to try this Canadian-based pastry, you will want to go to Dollywood's Splash Country. One of Dolly Parton's two parks, this one focuses solely on summer fun in the sun. There are mat slides, family rides, a water coaster, and multiple areas for little ones so they can get in on the fun. Click here to learn more about Pigeon Forge's best water park.
2. TopJump Trampoline Park
This brand new attraction is the perfect place to let your kids use up all their energy by jumping on trampolines or enjoying the kids zone! There's also a ninja course for those who want to try their hand at experiencing what the American Ninja Warrior Challenge is like. There are plenty of other activities to do here, all you need is the energy to keep up! Find out more about TopJump here!
3. Alcatraz East Crime Museum
Pigeon Forge's newest museum attraction, Alcatraz East Crime Museum, is the perfect place for you crime show fans. The exhibits range from a section about serial killers to old fashioned capital punishment. This museum is one of the best indoor Pigeon Forge attractions to visit when you come on your vacation.
4. Climb Works Smoky Mountains
This aerial  adventure park will send you zipping and soaring over the forrest floor down ziplines! You will have zipline guides that are knowledgeable about the local area and often have really great facts and jokes to tell. However, their main concern is making you feel safe and ensuring that you have a great time. Ziplining with Climb Works is exciting and you get the chance to see awesome views of the Great Smoky Mountains! They also offer a thrilling mountain biking course to try! Find out more about Climb Works Smoky Mountains here.
5. Parrot Mountain & Gardens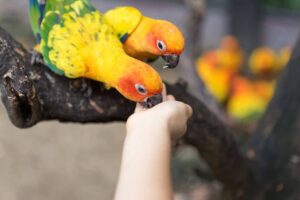 This bird sanctuary has a wide variety of bird species for you to see up close. You can even feed them! From seed eating birds to nectar eating birds, the amount of winged creatures will amaze not only the children in your group, but the child inside of you as well. This attraction is a favorite of not only visitors, but locals as well, so be sure to check out our coupon for Parrot Mountain and Gardens!
6. Lazerport
Who doesn't love a game of laser tag? This age old classic is the perfect place to cool off in the middle of a hot day. Not only can you play laser tag, a pretty competitive game at times, but they also offer a variety of arcade games to play while you wait for your session to be called. For a coupon to Lazerport, click here.
There are so many more awesome Pigeon Forge attractions for you to visit, but these 6 are certainly a must visit! Click here to check out our Smoky Mountain coupon book and see which deals you may be missing out on!