Great food is one of the most irresistible characteristics to any vacation, including one in Pigeon Forge. However, there is more to any breakfast, lunch or dinner meal than just the quality of the food. You have to take into account the overall experience. That's why we have put together this list of truly delicious restaurants in Pigeon Forge TN you have to visit during your vacation, so you can experience some of the best options available in the area.
1. Mama's Farmhouse
This Pigeon Forge restaurant is sure to have you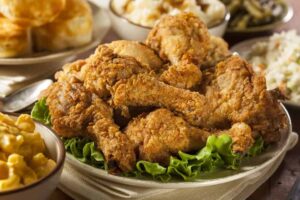 feeling like you're eating an amazing home cooked meal. Mama's Farmhouse serves all of their dishes family style, which means all of the food is passed around and you create your own plate. It is all you can eat, too, so you better come hungry! They serve breakfast, lunch and dinner Monday through Sunday. You will find all of your southern family favorites like gravy and biscuits, fried chicken, country fried steak and turkey n' stuffing. Make sure you make a stop here before you go, so you don't miss out on all this unlimited scrumptious food!
2. Alamo Steakhouse
If you're interested in the best juicy steak around, try Alamo Steakhouse. It has been voted by TripAdvisor the Certificate of Excellence, and has also won Best Steaks several years in a row a number of times. They have something for everyone, not just steaks, and they also have the perfect setting for any group, including receptions and romantic dining. They take pride in hand-cutting their steaks, grinding their own burger meat and making their own original soups, sauces and gravies.
3. Bennett's Pit Bar-B-Que
One of the restaurants in Pigeon Forge TN best known in the area for its moist and tender meat is Bennett's Pit Bar-B-Que. It has its own special sauce which is used to baste pork ribs, chicken, chopped pork and beef briskets. You can start off your tasty meal with its famous hickory wings as an appetizer, and then pick from its many options for entrees such as sandwiches, mesquite grilled meats, chicken tenders and more. Before you go don't forget to try the gooey chocolate cake with ice cream!
4. Big Daddy's Pizzeria
Big Daddy's Pizzeria is known for its fresh ingredients, hand crafted dough and world class pizza. However, they don't just have some of the best pizza around, you will also find wings, salads, sandwiches and desserts, but that's not all! They also have an arcade located within the restaurant that is perfect for kids and family fun. Make sure you check out this wood fired brick oven pizzeria during your next Pigeon Forge vacation.
5. TGI Friday's
TGI Friday's is one of the few restaurants in Pigeon Forge TN that offers a special signature sauce crafted by a popular Tennessee whiskey, Jack Daniel's, on some of it's most popular menu items. Visitors flock to this restaurant just to try its delightful sweet sauce, which is why this place is on our list of go-to restaurants. People from all around can't get enough of its items from the Jack Daniel's grill. A few favorites are the Jack Daniel's sirloin and the Jack Daniel's ribs and shrimp.
6. Wood Grill Buffet
If you're looking for the largest buffet in the Smokies, come to Wood Grill Buffet. It get's its name from the 4000 lb smoker used to enhance the flavor of its meat entrees, like the roast beef and barbecue ribs. They have a variety of breakfast foods available, including an omelet station where you can choose your own ingredients. They serve Asian, Italian, Southwestern and American food along with a salad bar, bread, vegetables and desserts! Even the pickiest of eaters will find something here, and not only that, they will absolutely love it!
7. Corky's Bar-B-Que
Corky's Bar-B-Que is one of the finest barbecue restaurants in Pigeon Forge TN, as they choose to specialize in only perfecting their barbecue by offering Memphis style dishes with falling off the bone meats. Of course a wonderful barbecue entree can't go without starters, sides and desserts, and they certainly have some of the best quality you will find, like BBQ nachos, jalapeno hushpuppies, fried okra and baked cinnamon apples. If you're interested in some great barbecue and southern favorites, check out Corky's!
8. Flapjack's Pancake Cabin
Start off your day with one of Flapjack's Pancake Cabin homemade pancakes made from scratch, and you will definitely be starting your day out in Pigeon Forge on the right track. If you've been missing the taste of Grandma's homemade pancakes, then Flapjack's is where you will want to go. They offer some of the best southern breakfast foods around, not just limited to pancakes. You will find omelets, waffles, sandwiches, french toast, platters and more!
Now that you are excited about enjoying some of the best restaurants in Pigeon Forge TN, don't forget to print out your Pigeon Forge coupons to the great places listed above!