Ripley's Believe It or Not! is back and better than ever. Throughout 12,500 sq. ft, you'll find the largest collection of odd and unusual items that the whole family will find fascinating, including a car made out of crystals and a 19th century vampire killing kit! Smoky Mountain Navigator has all the information you need to know about the new Ripley's Believe It! or Not in Gatlinburg:
About the New Odditorium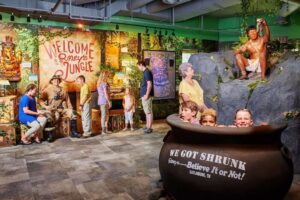 You don't want to miss the chance to see what's in store for you at the new Ripley's Believe It or Not! The newly renovated odditorium includes the most remarkable items from all corners of the world. There are new galleries, thousands of exhibits and exciting interactives throughout the 3 floors of the museum. The renovation captures the adventurous spirit of Robert Ripley, who traveled to more than 200 countries to search for the odd and unusual. The items on display will mesmerize everyone in the family for an experience that's unlike anything you've ever experienced before! This attraction is open 365 days a year, so you can come explore the peculiar and odd any time you'd like.
Exhibits, Artifacts & Galleries
The unbelievable things you'll see when you visit Ripley's Believe It or Not! will both shock you and entertain you. Check out some of the most fascinating items you'll see on your journey through the odditorium:
A Crystal Mini Cooper: Get up close to a car that's completely covered in crystals!
A Harry Potter Inspired Dragon made of recycled materials and the Hogwarts School of Witchcraft and Wizardry made from 602,000 matchsticks
Unusual art made from things such as spices, barbeque sauce, license plates and so much more
Two-Trunked African Elephant with 2 fully developed useable trunks
Rare Albino Giraffe
Wadlow, the tallest man, Lucia Zarate, the smallest woman and more amazing people from around the world
Faraday Cage that features a Tesla Coil that emits lighting
Short T. Dangerously, who lost both of his legs at 2 years old but travels the world doing acrobatic feats and walking on fiery glass with his hands
During your visit, you'll travel through a variety of galleries that will surely grab your attention. There's Ripley's Warehouse, which features Megalodon Submarine Robot and an Ancient Egyptian Mummy from 2000 BC, and Ripley's Jungle, which features unusual collections like a shrunken torso, shrunken heads, instruments, a tribal mask collection and fun interactives. One of our personal favorites is the Tribute Gallery to the Great Smoky Mountains, which has exhibits on Synchronized Fireflies, the Tallest Underground Waterfall and more! Another great aspect of the newly renovated Ripley's Believe It or Not! is the various interactives that are great for people of all ages, from kids to grandparents! These interactives include a Kaleidoscope Room, and Optical Illusion Room, Rainbow Shadows and more things that are sure to excite you.
These are just some of the many strange and unusual things that will capture your attention when you visit the new Ripley's Believe It or Not! in Gatlinburg. Download our coupon to the odditorium to save $1 on admission! Read our blog, "5 Ripley's Attractions in Gatlinburg That Are Perfect for a Day of Family Fun" to see what else you can do while you're in the area, then start planning your visit!