Do you love escape games? Then you'll be excited to hear this news: Crave Golf Club just opened two new escape games! Now you can spend hours having fun at Crave Golf Club. We've got all the details on the new escape games at Crave Golf Club in Pigeon Forge below:
New Escape Games at Crave
The new escape games at Crave are designed to give visitors a whole new experience at the attraction. You'll become part of a story and work with your group to solve a variety of puzzles and escape the room before time is up. Each of the escape rooms lasts 30 minutes, so you better be ready to put your skills to the test! Here are the two different escape games at Crave Golf Club:
Zombie Research Lab Escape Room: When you enter the Zombie Research Lab Escape Room, you'll be cut off from the outside world. You and your group are the only hope for finding a cure to the Zombyte virus, which turns humans into hideous creatures! You'll have to be able to think quickly on your feet to find a cure for the virus before the Zombyte infected creatures close in on the lab. You only need 2 people to successfully play this escape game!
Mayday Escape Room: In Mayday Escape Room, you're enjoying a submarine cruise until suddenly ice cold water starts to overtake the ship, and you're trapped! You and your group members will have to work together and communicate to seal all of the watertight doors before the submarine fills with water. Mayday Escape Room requires at least 3 people to play.
More Things to Do at Crave Golf Club in Pigeon Forge
While you're at Crave Golf Club trying the new escape games, be sure to enjoy everything else the popular attraction has to offer! Here are more fun activities for you to enjoy at Crave Golf Club: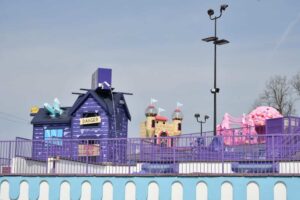 Rooftop Mini-Golf: The Rooftop Mini-Golf Course at Crave is a two-tiered outdoor course that takes you through a candy-coated wonderland. You'll putt through Rock Candy Mountain, Bubblegum Garden, and the Jellybean Jungle! The course begins on the ground and winds up the hill and onto the roof.
Indoor Mini-Golf: How would you like to putt through cliffs made of cocoa and ice cream sculpted canyons in an environment that's great during any weather? You'll love Crave's Indoor Mini-Golf Course! This 19-hole course is enough to satisfy anyone's sweet tooth. There are even spinners at every hole that make the game more fun, including things like putting while standing on one foot, or spinning around a few times before hitting the ball.
Mini-Bowling: After your mini-golf adventure, try your hand at mini-bowling! Mini-bowling is the same as regular bowling, except for you use mini balls to knock down mini pins. It's fun for both kids and adults, and you don't even have to wear bowling shoes to play!
Sweet Shop: Just being at Crave Golf Club is enough to give anyone a sweet tooth. So, make a stop by the Sweet Shop before you leave! The Sweet Shop has all your favorite treats, from gigantic boxes of Nerds to 4-foot pixie sticks. Get a bag to take home with you!
Coupon for Crave Golf Club in Pigeon Forge
Now that you know more about the new escape games and all the fun things to do at Crave Golf Club in Pigeon Forge, we bet you can't wait to visit! Click here to get our coupon for Crave Golf Club and enjoy everything the attraction has to offer.