Here's what you need to know about the locations that Dolly's highlighted in her NBC special.
Whether you struggle to get into the Christmas spirit or have had your tree up since November if you're a Tennessee native you've probably heard of Dolly Parton's NBC special, Dolly's Mountain Magic Christmas. With special guests like Jimmy Fallon, Miley Cyrus, and Willie Nelson on screen, it might've been easy to miss any of the iconic locations where filming took place, like Red's Drive-In, the cabin she grew up in, or the special church located on Dollywood grounds. 
Here's everything you need to know before your next visit. 
Red's Drive-In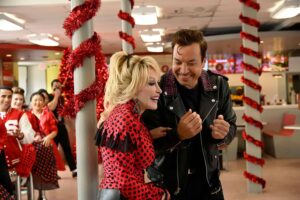 A Dollywood staple in Jukebox Junction since its grand opening in 1995, Red's Drive-In cements itself as the hottest place to eat in the park after Dolly's dance number in the Christmas special with guest star, Jimmy Fallon.
Apart from the fact that you now have the chance to sit in the same booth as both Dolly and Fallon himself, the restaurant also serves as a nod to some fun Dolly trivia. 
In 1946, the restaurant that molded Red's Drive-In opened its doors. Dolly was born in the same year, and when she was six years old, her father took her on a special trip to town, where they had their first burger at this location. The memory made a great impact on Dolly, as she carried it with her all these years. Which we couldn't be more thankful for, because Red's has the best shakes in town! 
Dolly's Tennessee Mountain Home
Those who have visited the park are likely familiar with the modest two-bedroom cabin that resides on the premises. Some may not be aware that this is actually a replica of the very cabin that Dolly grew up in.  
Constructed by Dolly's brother and decorated by her mother, the project was kept close to home. Keep an eye out for it and Dolly's "magic dust" in the special, and swing on by next time you're visiting the park!
Robert F. Thomas Chapel
It's impossible to walk through the park and miss Dollywood's very own, on-site chapel (that has weekly services!). You can walk through the very spot where Dolly Parton and Willie Nelson share a sweet duet together in the Christmas special. 
Did you know? The building was named in honor of the doctor who delivered Dolly! 
Dollywood Express Train Depot
Riding the 110-ton steam engine that travels a five-mile circuit throughout the park should be at the top of the itinerary for every first-timer visiting Dollywood. Not only will you stand in the very spot as Dolly and Billy Ray Cyrus as you wait to board the train, but you'll get to enjoy some of the best views of the Great Smoky Mountains as you go. 
Additionally, the holidays are the best time to enjoy the train ride! With the park decked out in more than six million lights, all you and your family have to do is sit back, relax, and snack on your funnel cake as the twinkling lights go by. Create a new Christmas tradition this year that you'll look forward to all year long.