Ever wanted to visit Niagara Falls? See Mount Rushmore? Experience a race at Bristol Speedway?
Vacations, meant to relieve stress, often achieve the opposite effect, especially when figuring out travel accommodations. Plane tickets are expensive, gas prices are sky-high (no pun intended), and oftentimes most people can only afford to vacation one week out of the year, so it's important that it's done right.
So, how is a person meant to travel and see the world in a timely and inexpensive matter? 
Welcome to SkyFly: Soar America, your one-stop tour of the world located at The Island in Pigeon Forge, Tennessee. 
SkyFly: Soar America utilizes a state-of-the-art ride system that creates an immersive experience for guests, offering sights, sounds, and smells that will transport you to over fifteen amazing sights that this country has to offer. Come prepared to experience everything from the Yosemite National Park in California to the clear, ocean-blue waters of Maui, Hawaii. 
In total, you'll visit (in no particular order):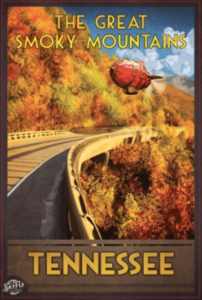 Yellowstone in Wyoming

Yosemite National Park in California

Tetons in Wyoming

Sequoia Groves in California

Squamish in British Columbia

Niagara Falls in New York

Mount Rushmore in South Dakota 

Maui, Hawaii

The Great Smoky Mountains in Tennessee 

Grand Canyon in Arizona 

Tracy Arm Fjord in Alaska

Fisher Towers in Utah

Bristol Motor Speedway in Tennessee

Everglades in Florida

Chimney Rock in North Carolina 
The Story
Join famous explorer Peter Wilder and his daughter, Hannah, as they embark on their most exciting adventure yet! As you walk along the halls toward your seat, you'll be greeted by Peter and Hannah as they prepare for the journey. Enjoy playful quips and laughter shared by this beloved father-daughter duo as they share about their travels and steampunk airship that, together, they invented to make this journey possible. Experience the story unfold in real-time as you move the immersive queue because this ride even has a pre-show experience to get you ready to take flight!
The Film
Some of the best pilots and talented cinematographers in the world gathered to collaborate on the film shown during this ride. SkyFly's Soar America offers a one-of-a-kind experience, showcasing an award-winning film exclusively available at The Island in Pigeon Forge, Tennessee. See the Grand Canyon up close and personal, from heights and views unknown to many. Fly along Niagara Falls, where you'll get so close you can actually feel the water. Find yourself on the Bristol Speedway Track mid-race, and the adrenaline rush that comes with it. 
Buy Your Boarding Pass Today!
Prepare to be whisked away on a totally immersive journey. Surprises await you at every turn once you step through the door, setting the scene for what's to come next. Buy your ticket today and prepare for the sights, smells, and sounds that accompany the most scenic views this country has to offer in a six-minute video meant to transport you to places unseen anywhere else in the world.
If you want a sneak peek at what to expect, check out Smoky Mountain Navigator on TikTok! You can catch glimpses here of the magic via our first-person video riding one of The Island's greatest attractions!