If you're a fan of magic, Pigeon Forge, Tennessee is the place to be! Our Smoky Mountain city is home to two of the best magicians in the country: Terry Evanswood and Darren Romeo. Both award-winning magicians perform regular shows that are great for the whole family. Smoky Mountain Navigator has put together a convenient guide with everything you need to know about these incredible magic shows in Pigeon Forge TN, and we've even thrown in some coupons too!
Terry Evanswood – The Wonders of Magic
Terry Evanswood has entertained over a million guests during this two decades in Pigeon Forge, and he's just getting started! A natural born performer, Evanswood started mesmerizing audiences at age 10. He went on to earn a doctorate of magic at the Chavez Studio of Magic before embarking on a career that has taken him all around the country and the world. Evanswood is a Merlin Award winner and the only member of the Society of American Magicians to be endorsed by both David Copperfield and Harry Blackstone.
Evanswood's Wonders of Magic show runs at the WonderWorks indoor amusement park on the Parkway. The show mixes magic, music, dancing, and comedy to enthrall audience members of all ages. Guests can expect to see breathtaking illusions, old fashioned sleight of hand tricks, hilarious impressions, and impossible escapes in the style of Harry Houdini. Trust us, you don't want to miss this show!
To get a discount on admission, be sure to print out and bring our Wonders of Magic coupon.
(See Also: The Easiest Ways to Save Money with WonderWorks Coupons and Discounts)
Darren Romeo – Magic Beyond Belief
Darren Romeo, a protege of Siegfried and Roy, stars in another one of the best magic shows in Pigeon Forge TN. Known as "The Voice of Magic", Romeo is not only an amazing magician, but also a talented singer. Romeo has performed in Las Vegas at Caesars Palace and the Flamingo Hotel and has won numerous awards, including "Magician of the Year" from the Academy of Magical Arts.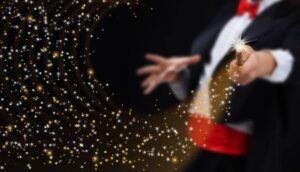 In his Pigeon Forge show, Magic Beyond Belief, at the Smoky Mountain Opry, Romeo astounds with a state-of-the-art production combining vocal performances, impressive illusions, and sidesplitting comedy. A highlight of the show is Romeo's tribute to Siegfried and Roy that includes an encounter with a beautiful white tiger. Romeo also honors the legacy of the great magician Harry Blackstone Jr. by performing his famous "Floating Light Bulb" Illusion. The Blackstone family has granted Darren Romeo exclusive rights to perform this one of a kind trick. The Magic Beyond Belief show definitely lives up to its name!
For discounted admission, print out and bring our Magic Beyond Belief coupon with you to the show.
In addition to these magic shows in Pigeon Forge TN, Smoky Mountain Navigator offers lots of other great coupons to all of the best things to do in the area. To see all of our available discounts and promotions, check out our Pigeon Forge coupons page!