Ober Gatlinburg is best known as one of the Southeast's most popular ski resorts. However, many people don't realize that it is also open during the summer! When the weather gets warm, Ober becomes a family amusement park with rides, games, and other awesome activities. Read on to learn everything you need to know about summer at Ober Gatlinburg.
(See Related: Dollywood's Great American Summer Returns to Pigeon Forge)
Ober Gatlinburg Aerial Tramway
The coolest way to get to Ober Gatlinburg is also an attraction! Rather than driving all the way up Ski Mountain Road to get to the resort, visitors can take Ober's Aerial Tramway. This special cable car leaves from downtown Gatlinburg and takes guests on an incredibly scenic 2.1 mile ride to Ober.
The tramway picks people up at 1001 Parkway, Gatlinburg,TN 37738. Adult admission costs $12 and kids admission is $9.50 for children 5 – 11. The Aerial Tramway runs throughout the day from 9:30 a.m. to 9:40 p.m.
Ober Gatlinburg Alpine Slide
The Alpine Slide is another one of the most popular things to do at Ober Gatlinburg over the summer. The ride starts with a breathtaking chair lift ride to the summit of the mountain. When you arrive at the top, you'll have the chance to hear some tunes from Ober's resident bluegrass band.
Once you're done listening to the music, you're ready for the main event! The Alpine Slide is a 1,800 foot track that takes guests on a twisty turvy trip down the mountain. Adults ride the slide in their own sled, and children 6 and under ride with a parent. Every sled comes with its own handbrake, so you can control how slow or fast you want to go. Whether you zoom down the track at top speeds or take a more leisurely pace, the Alpine Slide is a ton of fun.
A ride on the Alpine slide only costs $7 per person!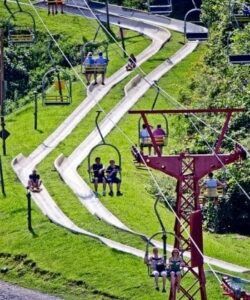 Other Activities at Ober Gatlinburg
In addition to the Aerial Tramway and the Alpine Slide, there are a bunch of other great things to during the summer at Ober Gatlinburg:
Wildlife Encounter
Ice Skating
Kiddie Land & Rides
Blue Cyclone Rapids
Mini Golf
Shoot-the Shoot Water Ride
Amaze N' Maze
Ober's Lightnin' Water Ride
Chair Swing
Arcade & Redemption Center
To learn more about these attractions, visit the official Ober Gatlinburg website.
Looking for a place to stay close to all of the summer fun at Ober Gatlinburg? Visit our Lodging page to find the perfect cabin, condo, or hotel for your next trip to the Smokies!