The Island in Pigeon Forge will be hosting its 2nd Annual New Year's Eve Party, and everyone is invited! This family friendly event is the perfect way to welcome in 2015, and the best part of all is that it is completely free to attend. Here is all of the information that you need to know about celebrating New Year's Eve in Pigeon Forge: 
(See Also: Don't Miss These 5 Amazing Christmas Shows in Pigeon Forge)
Location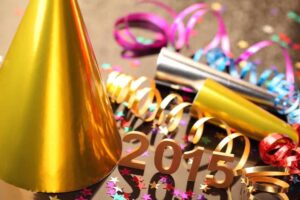 The Island is conveniently located in Pigeon Forge at 131 Island Drive, just south of Traffic Light #3 on the Parkway.
What to Expect
The New Year's Eve Party at the Island is a full evening of fun and entertainment to celebrate the arrival of 2015! The event features live entertainment from performers such as Joe the Show, the Live Rock n Roll Theatre, and Fairview Union. In addition, there will be a variety of kid's activities to enjoy, including face painting. Of course, the highlight of the evening is the countdown to midnight, which will be followed by a spectacular fireworks display! The musical entertainment is scheduled to begin at 6 p.m., and the official party kicks off at 8 p.m.
To learn more about the festivities, visit The Island's official website: https://islandinpigeonforge.com/events/
Other Activities at the Island
Come to the Island early to enjoy a variety of shops, restaurants, and attractions including the Great Smoky Mountain Wheel, a 200 foot tall Ferris wheel with amazing views of the Great Smoky Mountains. The Island features over 60 unique retail shops, offering everything from jewelry and hand crafted furniture to toys and magic tricks. There are also a great collection of delicious restaurants and eateries at the Island, including Dick's Last Resort, Margaritaville, Mellow Mushroom, and the Timberwood Grill. Whether coming for the whole day or arriving for the evening party, the Island is the place to be to celebrate New Year's Eve in Pigeon Forge!
Looking for even more fun activities for your trip to the Smokies? Check out our What to Do in the Smoky Mountains page for some excellent vacation ideas!