Spanning Sevierville, Pigeon Forge, and Gatlinburg, Smoky Mountain Navigator has you covered from Knoxville to Asheville. You can expect over 100 money-saving coupons to ensure this vacation is the best one yet!
The Smoky Mountains are the treasure of East Tennessee, and Smoky Mountain Navigator is your best chance at seeing all that the mountains have to offer. If you're looking for the best, most money-conscious way of visiting Pigeon Forge, Gatlinburg, or Sevierville, Tennessee, then be sure to request a FREE coupon book to be sent right to your home! In it, you can find coupons for everything from festivals, accommodations, vacation packages, and everything in between.
Plan your perfect vacation to Pigeon Forge, Tennessee, or if Gatlinburg is more your style, join in on the couponing fun. If Sevierville is more your speed, don't fret. Smoky Mountain Navigator has your back. 
Continue reading to learn what each location has to offer! 
Pigeon Forge
Beyond The Lens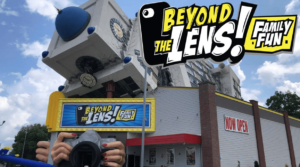 Beyond The Lens is where entertainment and technology come together to form something we like to call techno-tainment. With over 150 interactive exhibits and our FlyRide, a state-of-the-art interactive adventure, there's a full day's worth of fun for the whole family. 
Just some of the fun Beyond The Lens offers:
VR Games (Beat Saber, Walk the Plank)

Escape Rooms

Photo Ops

Video Games

360 Flip Bumper Cars

And more! 
Expect the unexpected at Beyond The Lens, a place full of fun with a little something for everyone. 
MagiQuest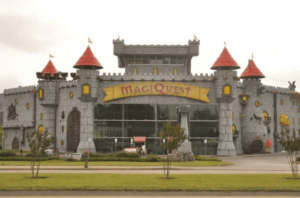 ​​Give into your iMAGInation and fall into the enchanted realms of MagiQuest. Players are given their very own magic wands to complete quests and adventures in an interactive, live-action, role-playing game that's sure to have the whole family talking about. Create lasting memories in one of the four attractions that MagiQuest offers. If magic isn't your thing, they also offer:
Pirate Golf:

a black-light, 18-hole mini golf course set in a Caribbean pirate village. 

Arcade Adventure:

offering Halo, Jurassic Park, Wizard of Oz, NBA Gametime, Mario Kart, World's Largest Pac-Man, Skee-Ball, and much more waiting for new high scores! 

Odyssey:

a mirror maze adventure that's fun for all ages! 
Fill your family vacation with a little bit of magic. Visit MagiQuest in Pigeon Forge today, and don't forget to save money by using coupons found in Smoky Mountain Navigator!  
WonderWorks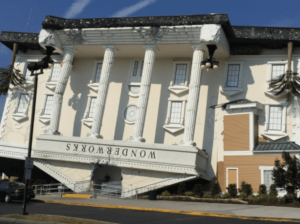 With the ceiling beneath your feet and the floor overhead, be prepared to have your world turned upside down upon entering one of the best attractions in Pigeon Forge, Tennessee. 
WonderWorks Indoor Amusement Page has over 42,000 square feet of "edu-tainment" that combines education and entertainment with more than 100 hands-on exhibits that spark the imagination and challenge the mind. 
Once a top-secret laboratory based in the Bermuda Triangle, an experiment-gone-wrong lifted the lab and dropped it in the middle of Music Drive in Pigeon Forge, lucky for all of us Tennesseans. Luckily, all of the exhibits remained intact and ready for new minds to explore.  
Visit today to explore some of the Wonder Zones, like:
Extreme Weather Zone

Physical Challenge Zone

Space Discovery Zone

Light & Sound Zone

Imagination Zone

Wonder Art Gallery
Along with the exhibits are some attractions that are fun for the whole family, like an indoor ropes course, 4D XD Simulator Ride, and Laser Tag Arena. 
Pack the family in the car and come visit WonderWorks on your next visit to Pigeon Forge! 
Gatlinburg
Anakeesta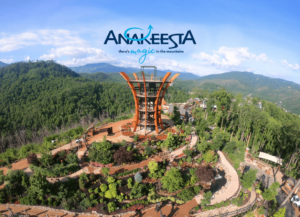 Located in the heart of Gatlinburg, Tennessee, Anakeesta is a unique outdoor experience that immerses guests of all ages in all the beauty and adventure that the great outdoors has to offer. 
Fall in love with the Smokies and create lasting memories with your family and friends. Admission to the mountaintop park includes all-day parking access and unlimited scenic rides via the Chondola and Ridge Rumbler. Try not to get distracted by the beauty and miss out on Firefly Village, a quaint shopping center with dining options with a whimsical mountain view. 
Just a few things that Anakeesta has to offer:
Dueling Zipline Adventure 

Rail Runner Mountain Coaster

Gem Mining

Treetop Skywalk

And more! 
Don't miss out on one of the great gems of Gatlinburg. Your family will thank you for including this one on the itinerary for sure. 
Ripley's Aquarium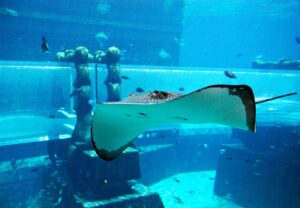 Ripley's is a sprawling aquarium that houses sharks, penguins, stingrays, sea turtles, and more! With 1.4 million gallons of water, the aquarium is home to over 100,000 exotic sea creatures that are happy to call the aquarium home. 
Along with getting to freely roam the aquarium at your own speed, Ripley's also offers:
Glass Bottom Boat Ride

 Virtual Tours

Turtle Time

Penguin Paintings & Encounter
For our future marine biologists out there (or just big lovers of the sea and all who inhabit it), Ripley's also offers camp and sleepover options that will surely be a big hit for all our thalassophilia and friends. 
Once you're on your way to Ripley's Aquarium, be sure to tune in to the Live Penguin Cam and meet the gang! They'll be busy preening with their beaks and shaking their tail feathers in anticipation to meet your whole bunch. 
Ole Smoky Distillery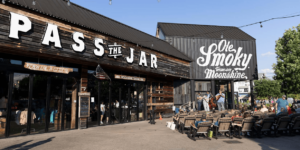 For those passing through Gatlinburg or planning a trip who are of age, you won't want to miss out on America's most-visited distillery, offering Moonshine, whiskey, canned cocktails, and a James Ownby reserve. 
Don't wait, book yourself and your family a tour and Ole Smoky Distillery will take you behind the stills to see how the moonshine comes to be. You can even bring the dog! Man's best friend is always welcomed on the grounds of Ole Smoky Distillery. 
As their website says, "…where else can you sample some of the tastiest moonshines and whiskies this side of the Tennessee River while listening to a live bluegrass band?" 
Plan your trip today and have the time of your life. No reservation required! 
Sevierville
World's Largest Knife Store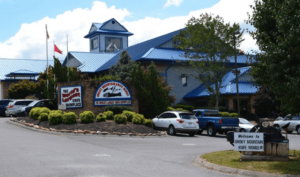 ​​Calling all hunters and knife enthusiasts, Sevierville, Tennessee is the home of your newest haven. If it cuts, they carry it. Smoky Mountain Knife Works is your source for SOG knives, Case knives, Buck knives, Benchmade knives, Cold Steel knives, and much, much more! 
For those who may not be into knives but find themselves in the store anyway by the knife collector in their life, SMKW has something for everyone! They also offer firearm accessories, general gear, clothing, cookware, and more! 
Be sure to stop at SMKW and walk the aisles of one of the oldest and largest knife retailers. You won't regret it. 
Rainforest Adventures Zoo
Located in the heart of the beautiful Smoky Mountains, Gatlinburg is home to The Rainforest Adventures Zoo which carries unique and beautiful creatures from rainforests around the world. 
Kids and adults alike love walking the grounds and seeing the Rainforest Adventures Zoo family, consisting of over 600 live animals (including Axolotls!). 
Themed by one of the nation's finest zoological contractors, whose work includes the Animal Kingdom at Disney World, you can expect fun for the whole family within the park. Visit today to ensure a vacation that your kids will talk about for years to come. 
Smoky Mountain Deer Farm Exotic Petting Zoo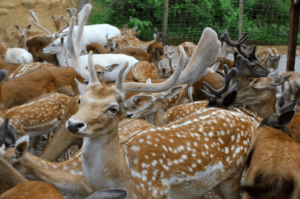 Place Smoky Mountain Deer Farm Exotic Petting Zoo at the top of your 'Places to visit in Sevierville, TN' list and enjoy an unforgettable experience with some of the most graceful creatures that Mother Nature has to offer. 
It's more than just a petting zoo at the Deer Farm. You and your family are invited to walk among the herd and hand-feed these delicate animals. 
There's something for everyone in an animal-loving family, such as camels, zebras, goats, emu, Rocky Mountain Elk, reindeer, Fallow and Sika deer, Highland cattle, donkeys, zonkies (yes, zonkies!), miniature horses, and more! 
For the die-hard horse enthusiasts in your group, Smoky Mountain Deer Farm Exotic Petting Zoo also offers equestrian fun for everyone. Their old-fashioned pony ride is great for young riders that want to come along a safe, gentle ride led by a parent. 
The wide and covered trails are 85% shaded by the beautiful woods that ensure a relaxing ride and a gorgeous view of the Smoky Mountains! 
Everyone in your group will thank you for including Smoky Mountain Deer Farm Exotic Petting Zoo on the itinerary. Be the talk of the family vacation and book your trip today. 
Plan Your Trip With Smoky Mountain Navigator
Whether you're planning a day in Gatlinburg, revolving your trip around the attractions that Pigeon Forge has to offer, or making your list of what to visit while passing through Sevierville, Smoky Mountain Navigator is your go-to resource for all things family-fun. 
Be sure to check out our site today for coupons for your favorite attractions! You can request a physical coupon book be sent right to your home or take a look through the digital download version. 
Either way, Smoky Mountain Navigator can't wait to help your next family vacation be the best one yet.