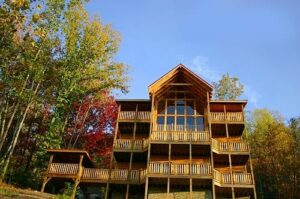 Bear Camp Cabin Rentals has everything you need for an unforgettable vacation in the Smokies! This family owned and operated company has a huge selection of Gatlinburg and Pigeon forge cabins, so you're guaranteed to find the perfect vacation rental for your group size and budget. Whether you are planning a family trip, a romantic getaway, or a big reunion, Bear Camp Cabins has exactly what you're looking for.
Great Locations
When you stay at Bear Camp, you'll be able to choose cabins in a variety of spectacular locations. Guests who want to be close to the mountains can stay in gorgeous cabins with breathtaking views of the Smokies. If you are looking for some privacy, you can get away from it all in one of Bear Camp's secluded cabins tucked away in a scenic wooded area. You will also find cabins just minutes away from all of the best attractions, restaurants, and shops in Gatlinburg and Pigeon Forge.
Fantastic Features
Bear Camp has everything from one bedroom to five bedroom cabins, with plenty of incredible options for under $100 per day. Guests will enjoy awesome amenities including bubbly hot tubs, fully equipped kitchens, flat screen televisions, and great game rooms.
Want to bring your dog on vacation? You will find a wonderful selection of pet friendly cabins, so your four legged friends can spend some time in the Smokies too!
Things to Do
There is no shortage of entertainment, attractions, and restaurants right around the corner from Bear Camp's Gatlinburg and Pigeon Forge cabins. Take a look at our What to Do page, to start planning your next trip to the Smokies!