Wonderworks in Pigeon Forge has become one of the most popular attractions in the area. It's one of the best attractions for kids, but adults enjoy time at Wonderworks, too! To help you save a little money on your vacation, we wanted to share a couple of our favorite Wonderworks coupons with you:
$2 Off Admission Coupon
This is one of our favorite Wonderworks coupons because it's so simple to use! All you do is click here to print the coupon and you'll be able to save $2 on the cost of admission.
(Click here for Wonderworks coupon)
Other Wonderworks Coupons and Discounts
In addition to our coupon, you can take a look at PigeonForgeTNGuide's advice for Wonderworks coupons and discounts: https://www.pigeonforgetnguide.com/coupons/wonderworks/
About the WonderWorks Attraction in Pigeon Forge
Wonderworks is a fun attraction for people of all ages! Wonderworks claims to be "an indoor interactive amusement park for the mind" and it definitely doesn't fall short of that! There's over 100 interactive exhibits and attractions inside Wonderworks!
What to Expect at Wonderworks
When you visit Wonderworks, be sure to dress comfortably. It's recommended that you wear closed shoes in order to experience all of the exhibits (some exhibits require closed shoes).  Once you make it into the attraction, you'll notice that there are multiple "Wonder Zones" where you will learn about specific sciences. You'll experience exhibits about things like natural disasters, light and sound, space discovery and more!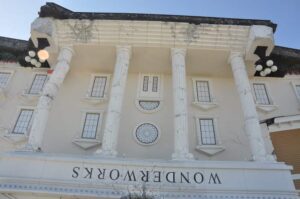 When you visit Wonderworks, you should expect to spend at least 3-4 hours there. It's best to plan this to be your main attraction to visit for the day because you can easily spend an entire afternoon exploring the exhibits. After you spend a couple of hours wandering throughout Wonderworks, be sure to stop by the Wonder Dog Cafe for a mid-day snack.
Wonderworks is open 365 days a year, so be sure to print your Wonderworks coupons and make plans to visit soon!