Halloween may be over, but that doesn't mean the haunted fun should come to an end. Ripley's Haunted Adventure is sure to give you goosebumps. It's rated the most popular haunted house in Gatlinburg. If you're a fan of feeling scared and letting out blood-curdling screams, Ripley's Haunted Adventure is the place for you. Here are six important things to know before you decide to schedule a trip to Ripley's Haunted Adventure in Gatlinburg.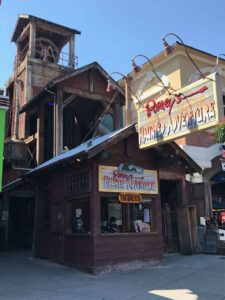 1. If you're scared of the dark, beware, you might want to think twice before entering Ripley's Haunted Adventure. The attraction consists of pitch black corridors that force you to feel your way through. As you travel through the haunted adventure, it's impossible to tell what's in front of or behind you, and you definitely won't be able to see what (or who) is waiting around the corner to "welcome" you to their home — but that's all part of the excitement.
2. When you visit Ripley's Haunted Adventure, you're stepping foot into a "mansion." Visitors are taken on a tour through winding corridors of a creepy renovated mansion and encounter a variety of monsters along the way. Everyone from evil clowns to zombies are waiting in the dark hallways to greet the newest house guests: you.
3. The attraction features live actors you'll run into on your tour of the mansion. All throughout Ripley's Haunted Adventure the undead are lurking, just waiting to jump out and surprise you. Don't be embarrassed if you scream at the top of your lungs — it's bound to happen at least a few times (but probably more).
4. Are you sick of only being able to fulfill your need for frightening fun when it's Halloween? Ripley's has the cure. Don't limit your haunted fun to just the month of October.The attraction is open 365 days to satisfy your love for all things horror. Don't miss your opportunity to visit the No. 1 haunted house in Gatlinburg.
5. Expect the unexpected. With state-of-the-art animatronics and special effects, you never know what is going to jump out at you next at Ripley's Haunted Adventure. But that's all part of the fun. The surprises along the way will keep you on your toes and test your greatest fears to see how long you can last.
6. Leave the little ones at home. Ripley's Haunted Adventure is not made for those who scare too easily. Only kids who are 6 years old and up are permitted to enter, and even then, enter at your own risk!
So, what are you waiting for? Don't let the spooky fun that surrounds Halloween come to an end. Continue the adventures by planning a visit to Ripley's Haunted Adventure, and be prepared to scream. And you know you don't want to go alone! Make sure to bring all your family members and friends. After all, there's safety in numbers, and everything's easier when you have someone to hold onto in the dark. Click here for a coupon to Ripley's Haunted Adventure.