Is part of your perfect vacation going shopping? If it is, then you're in just the right place! You won't find anywhere else that has this many options like Pigeon Forge shopping does! Look at these top 4 places for Pigeon Forge shopping you'll love:
1. The Island Shops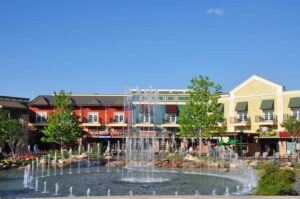 One of the best places for Pigeon Forge shopping is The Island Shops! You'll find more than 40 retail shops where you could get lost for hours. Want to find the cutest clothes and accessories? Go somewhere like the Be Free Boutique. Looking to redecorate your home? Stop by Farmhouse Decor and Gifts. Kids will love visiting Build-A-Bear Workshop where they get to make their new best friend, and they won't want to pass up the Big Rock Candy Kitchen where you'll find all kinds of homemade treats. Grab a snack from Kapop! Gourmet Popcorn, and check out the sauces at the Pepper Palace. You'll find all kinds of body care products at Savannah Bee Company and Nourish Natural Bath Products. No matter what kind of shop you're looking for, you'll find it at The Island Shops!
2. Pigeon Forge Factory Outlet Mall
Want to know where to shop and you'll get all the best deals? You need to go to the Pigeon Forge Factory Outlet Mall! You may also know this shopping complex as the "Red Roof Mall" due to the bright red roof. The setup of this complex is unique, making it fun to navigate! This mall is the place to go if you're looking for a bargain. You'll find the name brands you're looking for, including Rack Room Shoes. Need some clothes for your kids? Stop by Carters and Osh Kosh. If you enjoy browsing for furniture then you need to stop by The Smokies Furniture Collection store.
3. The Incredible Christmas Place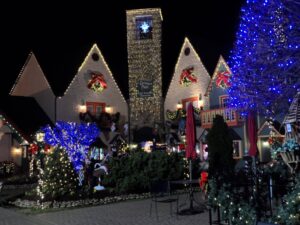 Do you love everything Christmas? Then you can't go Pigeon Forge shopping without visiting The Incredible Christmas Place! You'll find Christmas trees, ornaments, and figurines. If there's anything you've been looking for to help you decorate during the holidays, you'll find it at this store! You'll find trees lit in white lights and some covered with themed decorations. You'll even find Christmas music and music sheets, as well as Christmas villages to bring the magic of the season alive. You won't want to leave once you visit The Christmas Place!
4. Stages West
If your heart belongs to the wild west, then you have to stop by Stages West and check it out! You'll find all kinds of cowboy and cowgirl attire, from leather to lace. The walls are lined with so many cowboy boots, you won't believe your eyes! They also come in a variety of colors, such as brown, black, and even turquoise! You won't be disappointed by the selection of cowboy hats either! You'll even find toys and stuffed animals for kids who dream of being a cowboy or cowgirl.
You have plenty of options for Pigeon Forge shopping. Planning on traveling around the area? Check out these other places to shop in the Smoky Mountains!