When you visit Anakeesta, there are so many exciting things to do. You'll get to ride to the top on the chairlift, go on the dueling ziplines, and ride the mountain coaster. There are also plenty of places to sit and relax. While you're visiting, you may wonder what Anakeesta restaurants there are! From snack shops to full restaurants, there are plenty of places to grab a bite to eat. Here are the top 5 Anakeesta restaurants you'll want to try:
1. Cliff Top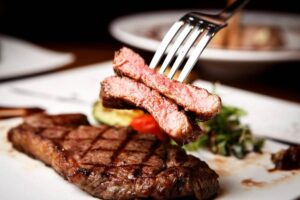 Cliff Top is located in Black Bear Village, the newer section of Anakeesta. This restaurant serves American cuisine, so there's something for everyone to enjoy! Start out with fried green tomatoes, cheese curds, or onion rings. Try one of the sandwiches or burgers, or get an entree salad for something light. You can get steak and a side of your choice for an entree, or choose from salmon, sea scallops, or shrimp. There's even a kids menu! Plus, you can enjoy incredible views of Mount LeConte while you eat.
2. Smokehouse
Smokehouse is located in Firefly Village, and it's one of the Anakeesta restaurants you won't want to miss. You'll find classic barbecue entrees and sides. Try the smoked wings with your choice of sauce. There are pulled pork, brisket, and chicken sandwiches. You can get a plate with your choice of meat and two sides. You can also try fried pickles, bleu chips, or barbecue nachos. At this restaurant, you'll get some mountain views and a great view of downtown Gatlinburg. Want even more barbeque? Check out these barbeque restaurants in Pigeon Forge and Sevierville!
3. Pearl's Pie in the Sky
Need something sweet? Pearl's Pie in the Sky has every kind of sweet you can think of. Get a scoop of your favorite Bluebell ice cream flavor and any toppings you want. This shop also has all kinds of baked goods, including cookies, brownies, and pie! Pearl's also has hot chocolate and their signature wassail for a chilly day or night!
4. Kephart Cafe
If you're looking for a quick bite to eat, Kephart Cafe is a great choice. It is located in Black Bear Village. You can get flatbreads, such as meat lovers, veggie, or barbecue. Grab a hot dog topped with your favorites. Kephart Cafe also has frozen yogurt in a variety of flavors for you to try! It's a great place to grab a bite and get back to having fun.
5. Snack Shack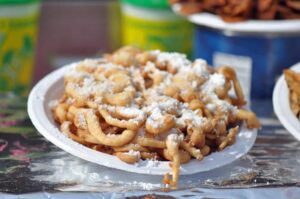 The Snack Shack is right between Firefly Village and Black Bear Village. You won't want to miss out on trying the signature funnel cake fries. You can get them classic style with powdered sugar, cinnamon sugar, or chocolate hazelnut. If you prefer fruit, they have strawberries and cream or apple pie. Snack Shack also serves hot chocolate.
These Anakeesta restaurants have all kinds of amazing food you'll want to try. Ready for a trip to Anakeesta? Check out our Anakeesta coupon to save some money!