Anakeesta is situated high above Gatlinburg and offers all types of fun activities for you to enjoy with your family and friends! This popular mountaintop destination has something for guests of all ages, including the Magical Firefly Village with its numerous scenic overlooks, unique shopping opportunities and tempting restaurants. Here are 5 fun activities that you have to experience while visiting Anakeesta in Gatlinburg:
1. Scenic Chondola
One of the most exciting activities at Anakeesta is the scenic Chondola ride that transports you from downtown Gatlinburg to the 600 foot summit of Anakeesta Mountain! You can choose to ride up in an enclosed gondola cabin with seating for 6 or in a traditional 4 person ski lift style chair with a safety bar. Both options offer breathtaking views of the Smokies as you soar high above Gatlinburg on your journey up the mountain! Keep your eyes open as you never know what you might spot on the forest floor. You might even get lucky enough to see a bear!
2. Rail Runner
If you are a fan of thrill rides, you will want to head directly to the Rail Runner at Anakeesta in Gatlinburg! This single rail mountain coaster is the first of its kind in the United States and puts you in the driver's seat as you control the speed of your own coaster ride down the mountain! The single rail line is different from the other mountain coasters in the Smoky Mountains because it allows you to ride lower to the ground, enhancing the sensation of speed for an unforgettable experience! The Anakeesta Rail Runner begins with 1,600 feet of downhill twists and turns, then ends with a scenic uphill ride back to the top of Anakeesta Mountain.
3. Tree Canopy Walk
Walk among the treetops and enjoy a bird's eye view of the forest on the Tree Canopy Walk at Anakeesta! This series of 16 connected sky bridges is suspended in the trees and allows you to stroll 40 to 60 feet above the ground. Each of the bridges leads to a new observation platform where you can take in the spectacular views and learn about your surroundings with fascinating interpretive signage. The Tree Canopy Walk is fun for all ages, but keep in mind that you will be walking along bridges that sway and move!
4. Dueling Zipline Adventure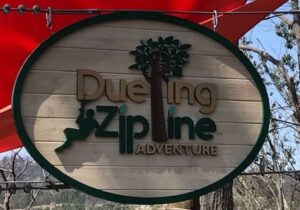 Another one of the fun activities that you have to experience while visiting Anakeesta in Gatlinburg is the Dueling Zipline! This action-packed adventure allows you to zip across the forest floor alongside your friends and family members! There are a series of 3 ziplines that offer beautiful views of the Smoky Mountains as you soar through the sky. Along your journey, you will be able to test your courage at two challenge stations where you will rappel off platforms and experience a controlled descent to a cushioned platform below!
5. Shopping at Firefly Village
For those guests who prefer to have their feet firmly planted on the ground, the Firefly Village is the perfect place to browse or shop! The Great Outdoors Trading Company features a diverse selection of pottery items, jewelry, soaps, home goods and other craft items that are made locally. If you are an outdoor enthusiast, you can also find all the gear and apparel you need for a day of hiking in the Smokies! As if that isn't enough, Catching Fireflies is a whimsical shop that offers toys and plush animals, garden art, home goods, women's apparel and wind chimes!
Check out our Anakeesta coupons today to enjoy a discount to Anakeesta in Gatlinburg and don't miss all of these fun activities while you are on the mountain! Also, be sure to browse our other amazing coupons for unbelievable savings throughout the Smoky Mountains!