The Great Smoky Mountains National Park is open all year, but when spring rolls around every year, people make plans to visit the mountains. With the weather warming up, flowers starting to bloom, and wildlife emerging from their winter homes, you'll find all kinds of cool things to see and do. Here are the top 5 things to do in the Smoky Mountains in spring:
1. Go on a Hike
A popular pastime in the Smokies is hiking. People of all ages and abilities are able to find trails they can enjoy, and spring is a great time to explore! The weather is warming up, so it won't be quite as cold as it is in the winter but it also won't be hot and muggy like in summer. You could choose a hike based on the features you want to see, like mountain views or a waterfall, or you can choose trails based on your skill level and how long they are. You'll love hiking in the Smokies in the spring!
2. See Wildflowers
With spring comes new beginnings, and plants are no exception in the mountains! There are hundreds of wildflowers popping up along hiking trails and in fields or even blooming in the trees! Rich Mountain Loop in Cades Cove is known for being a great hike to see wildflowers, while Laurel Falls Trail has a ton of mountain laurel at the beginning of the trail. Porters Creek Trail is another popular trail to explore if you want to see wildflowers!
3. Look for Wildlife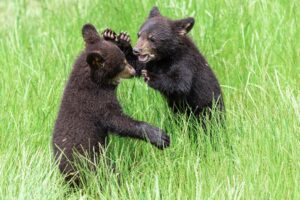 A popular thing to do in the Smoky Mountains in spring is look for wildlife! Many animals are scarce during the winter months, but once spring arrives, you may see quite a few if you're in the Smokies! The most popular animal is the black bear, but you'll want to keep your distance if you spot one while you're out and about. Other animals you might spot in the national park include white tailed deer, wild turkey, a variety of birds and bugs, squirrels, fish, and turtles. Cades Cove is a popular place to see wildlife, but it's possible to see them if you're driving or hiking virtually anywhere in the park!
4. Have a Picnic
Another fun activity people love to do in the Smoky Mountains in spring is have a picnic! There are several designated picnic areas in the national park with picnic tables and charcoal grills that are available to use, as long as you bring your own supplies. Cades Cove has a picnic area that's pretty popular located beside the campground right before you enter the Loop. Metcalf Bottoms is another area people love to visit since the Little Pigeon River runs alongside the picnic area. You'll love packing a meal to enjoy outside in the mountains!
5. Take a Drive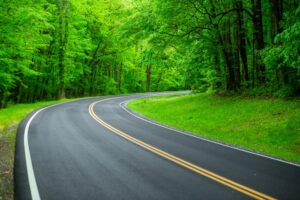 If you don't want to hike or explore out in the woods, you can always take a scenic drive in the spring! The views are incredible no matter which drive you decide to take, and you may even spot wildflowers and wildlife without ever leaving your vehicle! Cades Cove Loop is a popular road to drive, but some of the others include Foothills Parkway and Newfound Gap Road.
Now you know about some of the most popular things to do in the Smoky Mountains in spring. Want to know even more about the park before you visit? Learn about the Great Smoky Mountains National Park, then start planning your trip today!