Want to get out in nature and enjoy the changing season? There are several ways you can enjoy fall, but one of the most popular is going on hikes in the Smoky Mountains. There are several trails to choose from based on what you want to see or how easy you want it to be. Check out these top 6 hikes in the Smoky Mountains you should try this fall:
1. Gregory Bald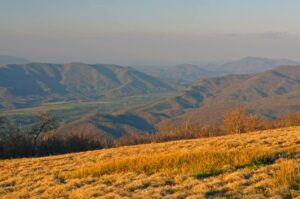 If you're an avid hiker who wants to really enjoy the fall color change, you should hike Gregory Bald. This trail is considered difficult with a roundtrip length of 11.3 miles. You'll hike through some rocky terrain and wooded areas, but when you reach the bald, you'll find the trail was worth it. There are incredible views of the mountains from the bald, and you'll get to enjoy the fall weather on your way there.
2. Alum Cave
Alum Cave Trail is a moderate hike in the Smoky Mountains. It is about 5 miles roundtrip, and this trail is one of the five ways you can hike to the summit of Mount LeConte. You'll see all kinds of cool rock features along the trail, as well as beautiful wooded views. There are also mountain views along the way, and in the fall, it's even more beautiful with all of the changing colors.
3. Baskins Creek Falls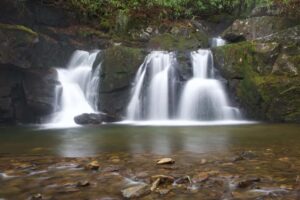 A great fall hike to go on if you want to enjoy the foliage and a waterfall is Baskins Creek Trail. This trail is about 3 miles roundtrip and is considered easy to moderate. You'll cross a few creeks along the trail. As you get closer to the waterfall, the trail gets a little more rugged and descends, forcing you to climb up as you leave the waterfall. Baskins Creek Falls is a 40-foot-tall, two-tiered waterfall you'll want to see.
4. Porters Creek Trail
Want to have an easy hike through the woods so you can enjoy being outdoors? Porters Creek Trail is the perfect trail for a simple hike through fall foliage. There are several old buildings along the trail you can explore. You'll cross footbridges farther down the trail, and near the end, there's a 60-foot-tall waterfall called Fern Branch Falls.
5. Andrews Bald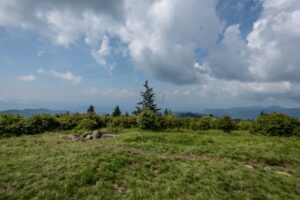 If you want to see beautiful mountain views but don't want to go on a hard hike, you should hike Andrews Bald. There are views from the start of this trail, along with a ton of rock features and wooded views too. The roundtrip length is 3.6 miles, and the trail is considered moderate. You'll have incredible mountain views in the fall at Andrews Bald.
6. Clingmans Dome
If you want to go for a drive and enjoy a short hike, you should go to Clingmans Dome this fall. This hike in the Smoky Mountains is really popular since you can see over 100 miles away on a clear day. It is off of Newfound Gap Road, a popular scenic drive in the area. You'll definitely have beautiful views of the fall foliage from the observation tower!
Seeing the fall foliage is one reason why so many people visit this area every year. These hikes in the Smoky Mountains are a great way to get out and explore while still enjoying the beauty of fall. Want to know more about what you can do in the national park? Find out more about the Great Smoky Mountains National Park before you come visit!