On days where you're running around exploring the Smokies, we know you're going to work up an appetite for some tasty lunch. Luckily for you, the Smokies area is filled with awesome lunch spots that are sure to satisfy any craving. Here are the top 7 places to get lunch in Pigeon Forge and Gatlinburg:
1. Mama's Farmhouse
For some mouth watering Southern fixin's served up family-style, head to Mama's Farmhouse in Pigeon Forge. These all-you-can-eat dishes are straight out of Mama's cookbooks, and they're made traditionally every time. Winner of the 2015 International Biscuit Festival, this restaurant offers incredible, hand-made biscuits every day. If comfort food is what you're looking for, you'll find it here!
2. Pottery House Café & Grille
Located in the historic Old Mill, the Pottery House Café and Grille is the perfect place to stop for lunch while you're exploring the area. From fresh-caught catfish and trout to garden salads, there is something for everyone at this Pigeon Forge restaurant. They offer an impressive lunch menu, filled with everything from Southern delicacies to heaty steaks. Swing by while you're spending the day at The Old Mill and see what makes this place so great!
3. Wood Grill Buffet
Wood Grill Buffet is the largest buffet in the area, with over 700 seats to accommodate for all your friends and family. Wood Grille Buffet isn't just one of the best places to get lunch in Pigeon Forge because of its space and atmosphere, they also offer delicious cuts of meat that are aged and seasoned to perfection, including wood grilled steak, racks of ribs, hand-carved ham, tender roast beef and more.
4. Big Daddy's Pizzeria
You can't go wrong with a slice of cheesy pizza, and at Big Daddy's Pizzeria that's exactly what you'll find. With locations in Pigeon Forge, Sevierville and Gatlinburg, you're never far from one of these awesome pizza pies. All these pizzas are hand-crafted and cooked on a 550 degree, wood-fired flame inside a one-of-a-kind brick oven.
5. Bennett's Pitt Bar-B-Que
All of the meats served at Bennett's Pitt Bar-B-Que are incredibly tender, moist and packed full of amazing flavors. From pork to chicken and beef, you won't believe the taste of these meals. Enjoy the special sauce and hickory smoked flavors in each dish and make sure to order one of the awesome sides, including their coleslaw and fries.
6. J.O.E & Pops Sub Shoppe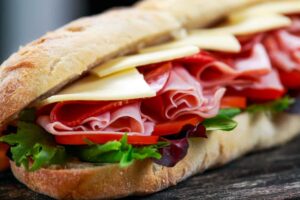 If you're in the mood for a fresh and delicious deli sandwich, head over to J.O.E and Pops Sub Shoppe and enjoy any of the tasty sub sandwiches they make every day. We know you may be ready to get back to exploring the Smoky Mountains, so this Gatlinburg restaurant is offering fast service and awesome meals to go. Pick up a few subs and then have a picnic in the national park!
7. Mama's Chicken Kitchen
Whether it's fried, grilled, wings or a thigh, the chicken at Mama's Chicken Kitchen is to die for! You haven't vacationed to the South until you've enjoyed some fried chicken, so make sure to pick up a bucket of it when you're at Mama's! Their fan-favorite wings come in a variety of flavors, including Buffalo, Salt and Vinegar, Honey-Glazed, Mountain Style, Parmesan and Garlic, Teriyaki or Kickin' Bourbon.
Now that you know the best places to get lunch in Pigeon Forge and Gatlinburg, you can begin planning where you want to visit on your trip to the Smokies! We offer coupons to these restaurants and more! Browse our available coupons and save on lodging, dining and entertainment on your next visit to the Smoky Mountains!