Planning a trip to Pigeon Forge, but aren't sure what's worth spending your time doing? There are so many fun things you won't want to miss out on when you visit! We've got the ultimate bucket list of things to do in Pigeon Forge, so keep reading to find out what you need to experience while you're in town.
1. Dollywood
Dollywood is one of the most popular things to do in Pigeon Forge you won't want to miss out on. Dollywood is home to many award winning roller coasters and rides like the Wild Eagle and Mystery Mine. You can find other more gentle rides here as well though, along with several shows, games, and plenty of delicious food.
2. Alcatraz East Crime Museum
Are you into murder mystery or any crime related TV shows or movies? Then the Alcatraz East Crime Museum is the place to see. You'll find so much more here than just exhibits about the Alcatraz penitentiary. You'll find artifacts from the Jessie James era, O.J. Simpson, Ted Bundy, Al Capone, and more! There are over 500 authentic artifacts inside the museum.   
3. The Island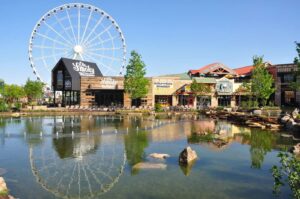 The Island in Pigeon Forge is a large entertainment complex. It's full of rides, arcades, shopping, dining, and other attractions. The Island has something for everyone of every age group and interest. Popular destinations at the Island include:
Paula Deen's Family Kitchen

The Great Smoky Mountain Wheel

Ole Smoky Moonshine

Margaritaville

and more!
4. The Old Mill
The Old Mill is listed on the National Register of Historic Places and was once a water powered gristmill that provided electricity to the surrounding city. You can come here to eat at the Old Mill Restaurant to feast on authentic Southern cooking, or you can grab a snack at the Pottery House Cafe across the street. When you get done eating you can visit the unique shops to grab a souvenir or gift.
5. Alamo Steakhouse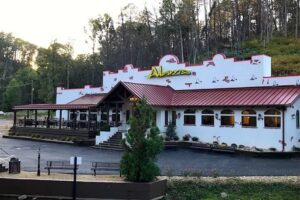 If you are looking for a place to have a date night with excellent food, the Alamo Steakhouse is a great option. The restaurant has a rustic theme with Alamo inspired architecture and cattle horns used as much of the decor inspiration. The Alamo is proud of the time and care they put into their food with specially cut, seared, and spiced steaks, to homemade gravies and sauces, and even made-to-order mozzarella sticks.
6. Mama's Farmhouse
Mama's Farmhouse is one of the great things to do in Pigeon Forge, especially if you're in town with family. The southern food is served family style, which means you have large platters of food that you pass around the table to share. You'll find items like ham, fried chicken, mashed potatoes, and more on their menu.
7. Country Tonite Theatre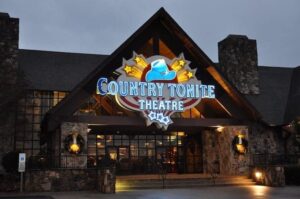 Seeing a Country Tonite show is one of the best things to do in Pigeon Forge. You'll find some of the area's best performers in this show. The Country Tonite show has dancing, singing, comedy, gospel, American Patriotism, and so much more. The music ranges from old country to new country, blending it together in an entertaining way you won't forget.
8. Hatfield & McCoy Dinner Show
The Hatfield and McCoy Dinner Show takes that tale and turns into a must-see show. It features singers, dancers, special performers, and comedy. You can spend your evening watching the two families hilariously pick at each other all while feasting on some delicious food. Their all you can eat dinner has items like fried chicken, buttery corn on the cob, grandma's special dessert, and more.
9. Paula Deen's Lumberjack Feud
If you want to see an exciting show, you need to go to Paula Deen's Lumberjack Feud. This show is pretty unique because it's the only one in the area that has an outdoor theater. The grandstand is heated for winter and cooled for the summer. You'll watch two groups of lumberjacks compete in 13 different events that will have you on the edge of your seat the entire time. After you watch the show, go to the Adventure Park to try some of the events on your own, explore a ropes course, and try the Flying Ox.
10. WonderWorks
Another fun thing to do in Pigeon Forge is WonderWorks. This is an interactive museum with several exhibits you'll enjoy. You can experience an earthquake, try to land a space shuttle, and climb a rock wall. Kids and adults enjoy visiting WonderWorks, so it's the perfect place to take your whole family.
These are just some of the fun things to do in Pigeon Forge you should have on your bucket list. Want even more ideas? Check out these Pigeon Forge attractions for more ideas!