Circle Yer Wagens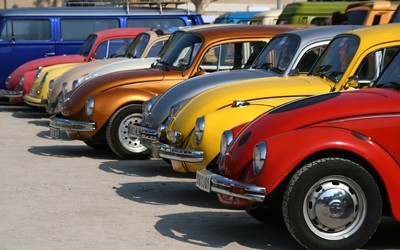 The Appalachian Volkswagen Association presents the Circle Yer Wagen VW Show at the Sevier County Fairgrounds. Top 75+ show and dash plaques to the first 150 entrants. Early setup and registration will be available on Friday at noon before the show. Keep your ticket stubs to participate in cash giveaways at the event.
The two day VW show includes a huge swap meet, contests for cash prizes, stereo contests, engine sound-offs, and riverbank camping in the show area. Camping is primitive without hookups, but showers and clean restrooms will be available. The event is held rain or shine, with free secure truck and trailer parking inside the show area. The Boy Scouts of America will have breakfast available at concessions on Saturday and Sunday.
<!–
Show Schedule
Gates open for show cars and vendors on Friday at noon and 7:00 am on Saturday and Sunday.
Friday, April 29, 2022: 12:00 pm – 6:00 pm
Saturday, April 30, 2022: 8:00 am – 6:00 pm
Sunday, May 1, 2022: 8:00 am – 4:00 pm
Gates close at 10:00 pm each day. After that time only registered campers wearing wristbands or persons registered with the event organizer will be allowed on the property.
Registration & Pricing
Show registration ends at 10:00 am on Sunday, May 1, 2022. If you pre-register, you will not receive any confirmation, but will have an envelope with all your information waiting for you at the event.
Spectator Fees: $8 for a single day pass, $15 for a weekend pass. Free for children 12 and under.
Show Entry Fees: $20 if you pre-register by April 10, 2022 or $25 at the gate (this includes vehicle and driver)
Camping Fees: $15 per person for a single day or the weekend in addition to other fees.
Vendor Fees: $30 for singel day or the weekend if you pre-register by April 10, 2022 or $40 at the gate. Vendors are strongly encouraged to pre-register as the event organizers cannot guarantee available space.
VW's For Sale: $30 for a single day or the weekend if you pre-register by April 10, 2022 or $40 at the gate.
–>
Circle Yer Wagons Sponsors
Sponsors include Bugstuff, Keith's Auto Parts, Creative Car Craft, Raby's Aircooled Technology, Harper Volkswagen, Jarett Import Car & Truck, Tri-County V-Dub, The Bug Shop, Cross Air Cooled, Gil's Custom Buggies, West Coast Core, and The Dub Barn.
All pets must be leashed. Please clean up after your pet. There will be no skateboarding, roller blading, bicycle or scooter riding allowed in the show area before 5:00 pm.
For more show information, please call (865) 654-8009 between 8:00 am and 5:00 pm on weekdays or email info@avwa.com.
Related Events