Fall Festival at Ober Mountain
September 29

-

October 28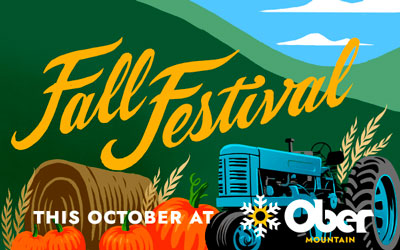 Smoky Mountain Fall Festival at Ober Mountain is a celebration for the whole family. Join us as Ober Mountain presents a month-long event full of music, food and FUN! The Smoky Mountain Fall Festival at Ober Mountain begins on Friday, September 29th and continues through Saturday, October 28, 2023.
October is a time to celebrate the change of the season at Ober Mountain. It all begins on the Ober Mountain Aerial Tramway. As you soar 2.1 miles, take in the amazing views of the Great Smoky Mountains National Park. There is no other vantage point that compares to the view from the Aerial Tram!
Once on top of Ober Mountain, the Smoky Mountain Fall Festival kicks off on September 29 with a Full Moon Concert Series. Heart Breakers, a Heart Tribute Band will perform from 7:00 pm to 9:00 pm in the Ober Mountain Special Event Lounge.
Hay Maze & More: Bring the whole family to enjoy a mountaintop of FUN! Climb your way to the top of hay mountain and slide down. Jump on a pedal bike as you make your way around the hay track. If you like a puzzle, see if you can find your way out of the hay maze.
Fall Foods: As part of the Fall Festival Celebration, you will enjoy specialty food items including a Schnitzel Sandwich, Ober Dunkel Brats, Pumpkin Spice Fudge, Pretzels with Yee-Haw Dunkel Beer Cheese, Pumpkin Juice and so much more! Cheers to many beers including German Beers: Hofbrau and Spaten, East Tennessee local Yee-Haw Brewing Co beer and more!
Ice Skating: Ober Mountain will host a Skate Party at the Ice Rink each day throughout the festival. Ice skate under the lights and enjoy music provided by a rink-side DJ with concert quality sound and lights.
Friday Night Movies: The Smoky Mountain Fall Festival at Ober Mountain fun continues with Friday Night Movie Nights under the stars on the 22′ LED digital screen. The Friday Night Movie line-up includes:
October 6, 2023: Hocus Pocus
October 13, 2023: Friday the 13th
October 20, 2023: Hotel Transylvania
October 27, 2023: Rocky Horror Picture Show
This is a great opportunity to sit under the stars and spend time with family and friends making memories.
Giant Pumpkin Festival: Fall Festivities include a weekend Giant Pumpkin Festival from October 20–22, 2023. You don't want to miss GIANT 1000 pound pumpkins being carved. You will want to make sure you're on hand to vote for your favorite!
Full Moon Concert Series: The Ober Mountain Full Moon Concert Series wraps up the month-long Smoky Mountain Fall Festival with a concert on top of the mountain. Pandora's Box, an Aerosmith Tribute Band will perform from 7:00 pm – 9:00 pm in the Ober Mountain Special Event Lounge.
You won't want to miss this true Smoky Mountain Fall Festival experience in the heart of Gatlinburg. This new festival at Ober Mountain was formerly known as Oktoberfest.
Related Events