Legends Of Tennessee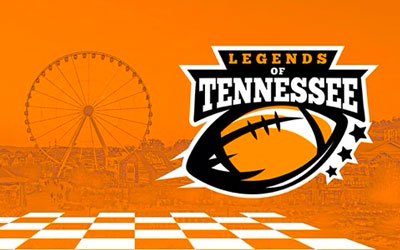 Current and former Big Orange football heroes will touch down at The Island in Pigeon Forge on June 10 (5 to 6:30 p.m.) during the second annual Legends of Tennessee Football autograph signing event.
The event is free, and football fans are invited to bring two items to be autographed. All fans will receive a free commemorative poster.
The family-friendly event includes special performances of "Rocky Top" and "I'm A Vol" on The Island's Show Fountain, a free laser-light show that is performed every 30 minutes.
The Legends event also includes a VIP Vol experience which includes expedited early access (beginning at 3:30 p.m.) and a gift bag. A limited quantity of exclusive VIP tickets is available for purchase.
<!–
At The Island, we live for creating fun and memorable experiences that bring families closer together, and we are proud to be ALL VOLS as we host this new event. We have special Rocky Top and I'm A Vol for Life Y'all performances on the Island Show Fountain that will play throughout the day. The Legends of Tennessee autograph session will be limited to two items per person. The Island will be giving away two tickets to the University of Tennessee home opening football game. Make plans to join us for a fun-filled visit to The Island in Pigeon Forge.
Want to have a VIP experience with the Legends of Tennessee? Here is your chance to attend this great event and have exclusive access to current and former players attending this great event.
The Legends of Tennessee organization brings their football camp to Sevier County High School for a football and family weekend. They teach life skills, character and leadership through football. The football camp is a great family experience and this year will include a visit to The Island in Pigeon Forge. Visit www.legendsoftennessee.org to sign up to attend the camp.
[quote cite="Jabari Davis, Legends of Tennessee"]Our camp is a great opportunity for kids to learn elite fundamentals taught by Tennessee Volunteer greats! If your child's dream is to be a Vol one day, you won't find a better place to start their journey. You learn from those who have been there and understand what it takes to make that dream a reality.[/quote]
There will be a total of 39 former and current Tennessee football players at The Island for this exclusive event.
Current players include: #1 Trevon Flowers, #2 Jabari Small, #4 Cedric Tillman, #4 Warren Burrell, #5 Hendon Hooker, #6 Byron Young, #6 Jimmy Holiday, #7 Joe Milton, #9 Tyler Baron, #10 Tayven Jackson, #11 Jalin Hyatt, #11 Latrell Bumphus, #18 Doneiko Slaughter, #19 Walker Merrill, #21 Omari Thomas, #26 Justin Williams, #33 Jeremy Banks, #44 Elijah Herring, #50 Jackson Lampley, #63 Cooper Mays, #76 Javontez Spraggins, #88 Princeton Fant, and #95 Da'Jon Terry.
Former players include: #2 Kevin Simon, #4 Jonathan Wade, #13 Terry Fair, #17 Devin Smith, #20 Derrick Tinsley, #21 Cedric Houston, #23 Corey Larkins, #34 Herman Lathers, #34 Jabari Davis, #38 Chris Treece, #40 Billy Ratliff, #42 Eric Westmoreland, #72 Jarvis Reado, #88 Kevin Shipley, #92 Justin Harrell and #99 DeAngelo Lloyd.
–>