Wears Valley Fall Fest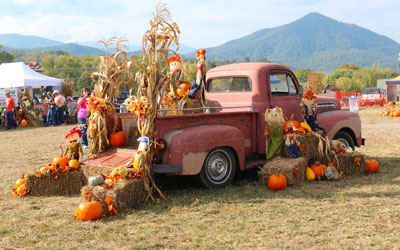 The Wears Valley Fall Fest brings visitors together to celebrate the Smoky Mountains and the beautiful fall colors, crafters, entertainers, activities and more. Three days of family fun will take place next to the Tennessee State Bank on Wears Valley Road.
Crafts: The Fall Fest features a diverse group of artisans, showcasing traditional and contemporary crafts. Learn more about the craftsmen already confirmed or sign up to participate.
Food: Enjoy various Festival foods, from the popular steak on a stick and grilled corn on the cob, to BBQ, Greek and Italian. For dessert, try Fall goodies such as gourmet caramel and candy apples.
Entertainment: Southern gospel, country, folk, Elvis… with a full lineup on stage throughout the weekend, there's something for everyone!
Kid Friendly: Kids can enjoy endless free activities from making crafts, playing games, running through an obstacle course, jumping in inflatables, and more!
Directions: The Wears Valley Fall Fest is located next to the Tennessee State Bank on Wears Valley Road, 3179 Wears Valley Rd, Sevierville, TN 37862. It is 7 miles from Pigeon Forge and 7 miles from Townsend.