When planning your next getaway to the Great Smoky Mountains, plan on staying in a cabin! A cabin in the Smoky Mountains provides you with so many things you won't find anywhere else. To get the full vacation experience, look at these 3 reasons why you should rent a cabin in the Smoky Mountains:
1. Tons of Amenities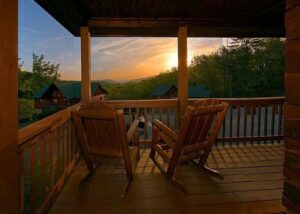 When you stay in a cabin in the Smoky Mountains, you get a ton of perks. Most cabins have a fully equipped kitchen, allowing you to cook meals instead of going out every night. Some cabins have hot tubs on the deck, so you can relax after a long day. You'll typically find cable TV and free Wi-Fi at cabins with a comfortable den or living room where everyone can hang out together.
Everyone can have their own bedroom when you stay in a cabin! You won't have to share a single room since there's plenty of space for everyone. Some cabins have game rooms with a billiard table, ping pong table, foosball table, and arcade games. You can stay at a cabin with pool access or one that has an indoor pool! If you love seeing the mountains, you can even stay in a cabin with an incredible mountain view. Plus, some cabins allow you to bring your dog with you on your vacation!
2. Plenty of Privacy
When you're not staying in a cabin, you might not have much privacy, which is important to some people. You typically won't be able to hear loud noises at night through the walls, and you won't have to share common areas with people you don't know providing you with all the privacy you need!
In addition to not having close neighbors, staying in a cabin means you're away from the main roads and loud noises of the Parkway. It'll feel like you're a million miles away from civilization, even though you'll only be a few minutes away from all the restaurants, activities, and attractions you want to visit!
3. Keeps Everyone Together
If you're on a getaway with a lot of people, your group could be split into a ton of different rooms, preventing you from spending quality time together. You can't easily have meals together either since you would have to share space with other people. When you stay in a cabin, everyone can stay in the same place. You may have different rooms, but you can spend time together in communal spaces like the living room, the kitchen, and the porch.
With the fully equipped kitchens, meal times also enable you to spend time together. If you go out to a restaurant, you can only hear the people around you because of the noise. Cooking meals in the cabin creates a sense of being together that going out to eat doesn't. Staying in a cabin in the Smoky Mountains ensures everyone spends quality time together!
With all these reasons to stay in a cabin in the Smoky Mountains, we know it's where you'll be on your next vacation! Browse through the best cabins for rent to book your next getaway today!