The Smoky Mountains are filled with fun-filled attractions for all ages! After you're done riding the coasters at Dollywood or hiking in the Smokies, work out your brain a little bit and visit some of the more educational Smoky Mountain attractions. Here are 5 fun and educational Smoky Mountain attractions you don't want to miss:
1. Forbidden Caverns
Located in the heart of Sevierville, Forbidden Caverns is one of Tennessee's most spectacular caves. When you visit the caverns you'll be provided with an entertaining and educational tour led by experts who will make this tour one you won't soon forget! Walk past sparkling formations, towering natural chimneys, grottos, and the clearest stream you'll ever see! The trail is well-lit and handrails are posted all throughout the caverns so everyone can come enjoy this natural beauty! With special lighting effects and stereophonic sound presentations, this cave is unlike any other.
2. WonderWorks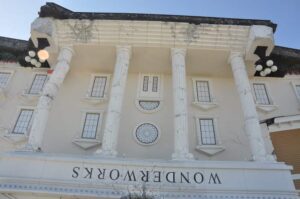 With over 35,000 square feet of "edu-tainment," WonderWorks amusement park will not only keep your family entertained for hours, but they'll learn some amazing science facts along the way! Just like the house, WonderWorks will turn your world upside down! With tons of Wonder Zones, such as the Space Discovery Zone or the Physical Challenge Zone, it's no secret why guests come back year after year! After you're done exploring the Wonder Zones, check out other exhibits, like the indoor ropes course, 4D XD Simulator Ride, or the laser tag area.
3. Ripley's Believe It Or Not
Prepare yourself for the unexplainable! There are 500 exhibits and artifacts, 16 themed galleries, 3 floors, and 12,500 square feet of the wackiest and weirdest oddities you've ever seen! You'll find everything from authentic shrunken heads to a 19th century vampire killing kit reside within Ripley's Believe It Or Not. This museum is a fan-favorite for returning and first time visitors in the Smoky Mountains. Experience some of these one-of-a-kind exhibits for yourself on your next trip!
4. Alcatraz Crime Museum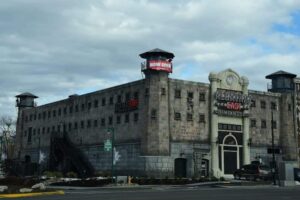 For all the true crime junkies out there, the Alcatraz Crime Museum is the place for you! Learn about the history of American crime, as well as, some of its most infamous players. Some of the key exhibits on display include Ted Bundy's VW Bug, John Wayne Gacy's Paintbox, and the Godfather Revolver. Alcatraz Crime Museum wants to provide educational experiences for all age groups, so if your kid wants to become a junior detective, don't hesitate to bring them along. The museum offers fun exhibits for kids such as the CSI Gallery, Crack-a-Safe, and meeting McGruff the Crime Dog! All of these opportunities make the Alcatraz Crime Museum one of the coolest Smoky Mountain attractions!
5. Ripley's Aquarium of the Smokies
A nationally recognized attraction, Ripley's Aquarium of the Smokies provides guests with an incredible educational and interactive experience you'll never forget! Pet a stingray, sleep with sharks, and paint with penguins at this beautiful attraction! Take your family on a marine adventure and explore all the fun things to do at Ripley's Aquarium. From the Glass Bottom Boat Adventure to the Mermaid Slumber Party, there are activities the whole family will enjoy! Check out their upcoming events and book your trip to Ripley's Aquarium on your next vacation!
Check out all these fun and educational Smoky Mountain attractions and more when you come visit the Pigeon Forge and Gatlinburg area! We look forward to seeing you soon!