Are you looking for an adventure park where you can do all sorts of fun things in one place? You need to visit The Track in Pigeon Forge. Race against each other on go karts, take your kids to ride all kinds of fun things in Kids Country, and end the day playing games in the arcade. Here are 5 fun things you can do at The Track in Pigeon Forge:
1. Ride Go Karts
The Track is known for its go kart tracks. The most popular track is known as the Wild Woody, and it is elevated with part of its track being wood. You'll drive up three and a half stories then spiral down to a drop at the bottom. Ride with your kids on the Family Track or The Sidewinder. Older children will have fun riding by themselves on the Rookie track, while small children can ride on the Kiddie Karts. Each go kart track has a specific height and weight requirement.
2. Play Mini Golf
The Track in Pigeon Forge has a mini golf course your whole family will have fun playing! This course is safari themed, and you will see giraffes, lions, zebras, and more. Each hole has a different feature to make putting more interesting. Your whole crew will have fun going through these 18 holes!
3. Try the Rides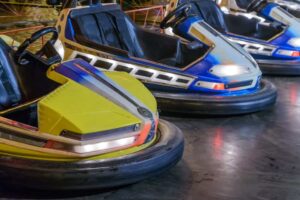 You'll find all kinds of fun rides at The Track. Your family can knock into each other in traditional bumper cars for a ton of fun. When it's hot out, hop aboard the bumper boats and bump into each other while squirting each other with water guns. Do you love thrill rides? Hop on The Skyflier for a thrilling experience! You will be strapped into a harness then pulled 75 feet into the air. When you're ready, you pull a cord, and you'll soar through the air, almost like you're skydiving. You guys will have a ton of fun riding these rides!
4. Kids Country Rides
Your small kids will have a ton of fun in the Kids Country section of The Track in Pigeon Forge! They'll love getting to pick which animal they ride on the carousel. Let them see the Smokies from their seat in the ferris wheel. They'll love riding the planes and the train. Some carnival favorites include the Spin Tops, the swings, and the twirling balloons. There are so many rides your small children will love!
5. Play in the Arcade
Once you're done playing outside, you can head inside to the arcade! You'll find all kinds of fun games, from skeeball to racing games. Try to grab a prize in the claw games to see if you win. Find classic arcade games and try to get as many points as possible. Once you're done playing, you can transfer your points into all kinds of prizes. Get candy, small trinkets, and large prizes if you have enough points!
You will have a ton of fun at The Track in Pigeon Forge. Want to know about more attractions in Pigeon Forge? Check out these other fun things you'll want to do!