The Island in Pigeon Forge is a large complex full of entertainment, dining, and shopping options to enjoy! It's great for guests of all ages, and it is fun day or night! With so many places to visit at The Island, there are several stops that you just have to make while you are there. Here are 8 places you need to visit at The Island in Pigeon Forge:
1. Alcatraz East Crime Museum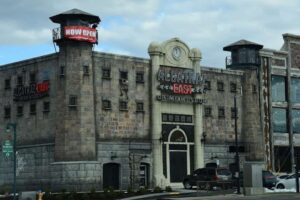 If you are into crime, murder, and mystery TV shows then the Alcatraz East Crime Museum is the place you just have to visit at The Island in the Pigeon Forge! Inside you'll find unique and genuine artifacts from some of the most notorious killers, thieves, and, and scammers in history. For example, you can see OJ Simpson's white Bronco on display, Al Capone's rosary, and so much more! The museum brings you the infamous world of crime in a new, interesting, and immersive way that you just have to explore!
2. Timberwood Grill
The Timberwood Grill is a fantastic restaurant at The Island that has mouthwatering food and good prices! You can find classic American dishes but with some unusual names like Peyco Pete's Grilled Meatloaf, Blackjack Salmon, Trail Boss Chicken Tender Plate, and much more! The Timberwood Grill is a great option for a casual lunch or for a date night meal while at The Island.
3. The Escape Game
Escape Games will put your problem solving skills to the test! You and several other players will be locked inside of a room and must rely on each other to solves problems, puzzles, and riddles to make it out of the room in a certain amount of time. The Escape at The Island in Pigeon Forge has 5 different themes to choose from: The Heist, Mission: Mars, Gold Rush, Classified, and Prison Break. Each one has different problems to solve, and all of them provide you with an hour's worth of fun!
4. Jimmy Buffett's Margaritaville Restaurant
Rain or shine, if you step into Jimmy Buffett's Margaritaville Restaurant you will find yourself on island time! You can expect to taste some tropical flavors on their menu, so you'll find dishes like peel and eat shrimp, Landshark Lager fish and chips, and more! And if you are 21 and over you have to try a famous Margaritaville margarita!
5. Paula Deen's Kitchen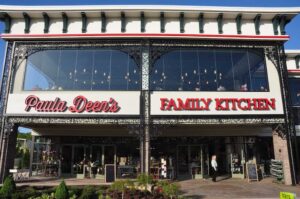 Famous chef Paula Deen is letting your try her delicious recipes at her restaurant Paula Deen's Family Kitchen at The Island in Pigeon Forge. The restaurant offers breakfast, lunch, and dinner. You can expect to find classic Southern dishes served in large portions. On the menus you'll find items like fried chicken, buttermilk pancakes, pork chops, seasonal cobbler, and more!
6. The Smoky Mountain Wheel
Towering at 200 feet tall is the Great Smoky Mountain Wheel! This large gondola style ferris wheel offers riders great views of the Smoky Mountains and Pigeon Forge! The Wheel is great to ride during the day or at night! During the day you can see the Smoky Mountains, and at night, the Pigeon Forge strip comes alive with lights plus you can see The Island Fountain Show from a neat vantage point! Taking a ride on the Smoky Mountain Wheel is one of the coolest things to do at The Island in Pigeon Forge!
7. Ole Smoky Moonshine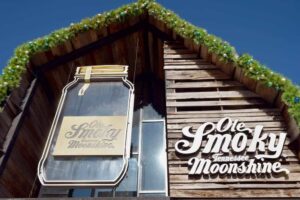 It's a Southern tradition to try some moonshine! And Ole Smoky Moonshine has made sure that you find a flavor and proof that you like! They have over 30 flavors they rotate throughout the year. Some of the most popular flavors are Apple Pie, Blackberry, Mountain Java, and Moonshine Cherries. Stop into the Ole Smoky Moonshine to see how moonshine is made, try some, and shop merchandise like shirts, drinkware, even food!
8. Island Show Fountains
The Island Show Fountains are a popular place to sit, relax, and watch the fountains. Here you can watch the state-of-the-art, multi-tiered show fountains "dance" and change colors to music creating peaceful and fun rhythms. The fountains operate everyday of the week from 10 am to 11:30 pm, and shows are 30 minutes long.
It's easy to spend several hours or an entire day at The Island in Pigeon Forge! Add one of these places to your vacation bucket list and then check out the some of our favorite hotels in Pigeon Forge to stay in for your next visit!