One of the best hiking spots in the Great Smoky Mountains National Park is Cades Cove. Cades Cove is one of the beautiful meadows surrounded by the mountains. It is one of the most well known areas in the park. Millions of visitors make their way to Cades Cove each year to experience the historical structures and see a different view of the Smoky Mountains.
There are many Cades Cove hiking trails that will give visitors beautiful views of the Smoky Mountains while showcasing all of the historic elements of the park. Here's a few of the best Cades Cove hiking trails:
1. Abrams Falls Trail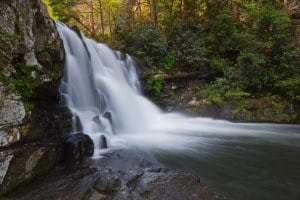 This is one of the moderate trail hikes in the Smoky Mountains. It's a 5 mile roundtrip hike that leads to a waterfall. Abrams Falls is only a 20 foot waterfall, but it's one of the most powerful in the national park. The trail is fairly rocky and dirt-packed, so you'll want to make sure to wear comfortable hiking shoes for your visit.
Visitors can access the trail from the Cades Cove Loop Road stop number 10. It is a relatively short but challenging hike from the number 10 stop.
2. Ace Gap
This is a 5.5 mile Cades Cove hiking trail that shows little gain or loss of altitude, so it is relatively flat. The trailhead is located on Rich Mountain Road. This trail runs for nearly 6 miles to Ace Gap. When you finish this trail, if you travel another 4 miles, you'll be headed toward the Abram's Creek area.
3. Gregory Bald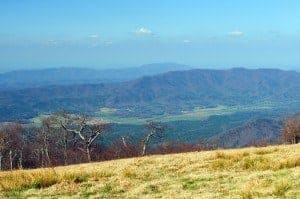 The Gregory Bald Trail is known for its panoramic views of the Smokies and the flame azaleas that bloom each year. It can be accessed via Parson Branch Road in the Cades Cove area. The roundtrip length of this trail is approximately 9 miles.
4. Rich Mountain Loop
This hiking trailhead is located right at Cades Cove. Once you enter the gate, the trailhead is approximately 25 feet ahead on the right side of the road. This is a popular trail for anyone who doesn't want to drive the 11 mile Cades Cove Loop Road because the trail follows a similar path. You can see all of the history of Cades Cove from the Rich Mountain Loop Trail. It's approximately an 8.5 mile roundtrip hike.
5. Rocky Top/Thunderhead
The Rocky Top hiking trailhead is located at the Cades Cove picnic area. The trail is absolutely stunning and has beautiful mountainside views with plenty of wildflowers to see in the spring. Keep in mind that this trail is considered strenuous in difficulty, so it's not recommended for beginner hikers or families with small children.
To learn more about Cades Cove hiking trails and the Great Smoky Mountains National Park, click here.