One of the best family-friendly shows in the Smoky Mountains is Paula Deen's Lumberjack Feud! This high energy show features world-class lumberjacks from the Dawson and McGraw families as they compete in 11 thrilling lumberjack events! Whether you are 5 or 95, you will enjoy this incredible outdoor show that has to be seen to be believed! Here are the top 4 reasons why Paula Deen's Lumberjack Feud is fun for the whole family:
1. Variety of Exciting Competitions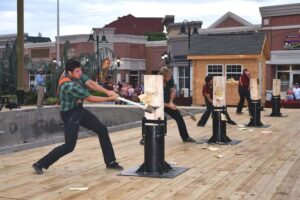 Paula Deen's Lumberjack Feud is a 90-minute, family-friendly show that features a variety of exciting lumberjack competitions, including axe throwing, log rolling, speed climbing, chopping, sawing and other action-packed events! If you have young children in your family, you never have to worry about them getting bored as there is truly non-stop action throughout the show! There is even a special intermission event just for kids! As if that doesn't sound good enough, the audience actually gets to participate with the interactive experience on stage!
2. Reasonable Ticket Prices
One of the awesome things about Paula Deen's Lumberjack Feud is that the ticket prices are incredibly affordable for families. There is also plenty of free parking! Since this is not a dinner show, you don't have to worry about paying for expensive food that your kids might not even like! As an alternative, you can bring food to the show or dine at one of the restaurants in the square. In fact, outside food and drinks are encouraged! To make the show even more affordable, children up to 3 years old may sit on the lap of an adult during the performance! Just keep in mind that there is a limit of 1 child that can sit in the lap of a paying adult.
3. Authentic Outdoor Experience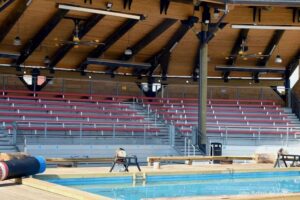 A unique aspect of Paula Deen's Lumberjack Feud is that the show actually takes place outside in an amphitheater! This makes the entire experience more authentic as the lumberjacks compete in the rain, shine, snow, and sleet! Of course, you don't have to worry as you will be safely covered in the climate-controlled grandstand at all times to stay dry, shaded and comfortable. Note that the shows will only be canceled in the case of severe weather that is deemed too dangerous for the crowd or the lumberjacks.
4. Opportunity to Meet the Lumberjacks
After the show is over, everyone in your family will have the opportunity to meet the lumberjacks in person! All audience members are invited to get pictures with the lumberjacks and get autographs to remember their thrilling experience in Pigeon Forge! Be sure to send your pictures to your family and friends back home to let them know how much fun you had attending Paula Deen's Lumberjack Feud!
Check out our coupons for Paula Deen's Lumberjack Feud today to enjoy a discount to this incredible show in Pigeon Forge! Also, be sure to browse our other amazing coupons for unbelievable savings throughout the Smoky Mountains!