Start your engines! Step inside the world of NASCAR when you visit NASCAR SpeedPark Smoky Mountains. This attraction isn't your ordinary go-kart track. There are so many exciting adventures that are fun for the whole family, from rides to rock climbing! Here are the top 6 things to do when you visit NASCAR SpeedPark and use our coupon:
1. Race Go Karts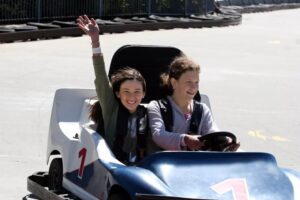 Of course, the main reason people visit NASCAR SpeedPark is to race go karts. The park has a total of 8 tracks for you to choose from. The most popular track is the Smoky Mountain Speedway, which is a quarter-mile D-oval-shaped course that lets guests drive a 3/8-scale version of an actual Spring Cup car. You'll feel just like a racing pro! There is also the Family 500 track that is an hourglass-shaped course for both rookies and pros. There are both single and double carts so you can ride solo or with a friend! There is even a track designed just for first-time drivers — Baby Bristol! When you use our coupon to purchase an unlimited ride wristband, you can try them all.
2. Ride the Family and Thrill Rides
In addition to go karts, there are numerous family-friendly rides, as well as thrill rides for you to enjoy at NASCAR SpeedPark. Go head-to-head with your family in a fun game of Spin Zone Bumper Cars, or try the Speedway Draft Coaster, a ride that's fun for the whole family! If you're looking for a thrill, take a spin on the Starship 3000 or experience a mini drop-tower ride on The Pro-Tow.
3. Play Mini Golf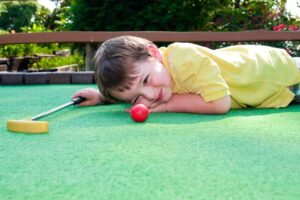 Take a break from all the excitement for an activity that's a little more relaxing — Fantasy Golf! You'll get to enjoy 18 holes of family fun. Choose which course you'd like to play, and let the friendly competition begin as you try to be the first one to score a hole in one.
4. Go Rock Climbing
For a challenging and exciting adventure, go rock climbing! The indoor rock climbing wall is the perfect way to test your strength and skill, and it's fun for the whole family. Climbers must be at least 40 pounds to try to conquer "The Rock."
5. Play in the Arcade
Another activity that's fun for the whole family at NASCAR SpeedPark is the Speeddome Arcade. The state-of-the-art interactive arcade has more than 5,000 square feet filled with 75 games! Play a racing game to practice your skills before heading outside to the tracks, or play some of the traditional arcade games. Don't forget to redeem awesome prizes before you leave!
6. Enjoy a Snack
You're bound to work up an appetite from all the fun you have at NASCAR SpeedPark! Make a pit stop at Pit Stop Grill, where you can dine on delicious meals or just grab a quick snack. You definitely won't go hungry at this attraction!
Don't miss your chance to visit this one-of-a-kind attraction! Download our coupon for NASCAR SpeedPark and have an exciting afternoon enjoying everything the park has to offer.