If you're traveling to the Smoky Mountains for the first time, you may be overwhelmed by how many things there are to do! However, there are a few attractions in the area that you can't miss! Here are the 4 best Smoky Mountain attractions for first time visitors:
1. Paula Deen's Lumberjack Adventure Park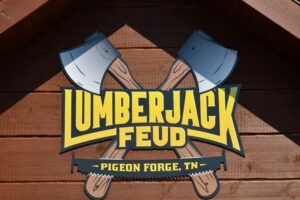 Paula Deen's Lumberjack Adventure Park is the perfect attraction for first time visitors who are thrill seekers! This two hour adventure park experience includes four parts. First, visitors will get to ride on the Flying Ox, a ride that is a combination of a zipline and a roller coaster that allows riders to see Pigeon Forge from above! Next is the High Woodsmen Challenge, a lumberjack themed ropes course perfect for guests of all ages. Visitors will also get to participate in Loggersports where they can try their hand at a log roll, a boom run, and a speed climb, just like our legendary lumberjacks do! Finally, you'll get a chance to check out Timber Towers, where you'll experience thrilling drops from 80 feet high! Paula Deen's Lumberjack Adventure Park is a great stop for first time visitors because it combines multiple experiences together in one place!
2. Ripley's Aquarium of the Smokies
You may have seen an aquarium before, but never one like this! Ripley's Aquarium of the Smokies has over 10,000 sea animals in 10 themed galleries, including exhibits of animals from the tropical rainforest and the coral reef. Stand on the moving sidewalk as you pass through a tunnel where you'll be surrounded by sharks and giant sea turtles! Aside from just observing the animals, Ripley's Aquarium of the Smokies also offers interactive experiences including Touch a Ray Bay, where you can touch a Manta Ray as it swims by and Penguin Playhouse where you can take a picture with one of the penguins for an additional cost. Depending on how long you want to stay, you may want to add on extra experiences such as the Glass Bottom Boat Adventure where you'll be separated from some of the ocean's deadliest predators by only three inches of glass! Ripley's Aquarium of the Smokies is as educational as it is exciting!
3. Pigeon Forge Snow
Pigeon Forge Snow gives guests the opportunity to enjoy winter year round! This indoor venue has an entire hillside of snow tubing slopes, as well as a large Snow Play area where you can make snow angels or build a huge snow fort! Although the building is filled with snow, the indoor temperature stays between 60 and 70 degrees, so you don't have to worry about bundling up too much! If you're worn out after a long day of exploring the Smokies, you can sit upstairs on the viewing level and watch the kids play in the snow while you enjoy a bite or a drink from our snack bar!
4. Five Oaks Riding Stables
The natural beauty of the Smoky Mountains is breathtaking, and seeing it on horseback is even better! At Five Oaks Riding Stables, you can go on an hour long horseback ride where you'll view majestic trees, bubbling streams, mountain views, and even an authentic moonshine still! Seeing the Smoky Mountains is something a first time visitor must do, and a horseback ride is a great way to do that!
There are tons of other attractions in the Smoky Mountain area, but these are the must-see destinations for first time visitors! To plan your trip, check out more Smoky Mountain attractions and visit soon!