East Tennessee and the Smoky Mountains have some of the best environments for beautiful golf courses. The Gatlinburg and Pigeon Forge area is home to some of the best golfing in the Smokies. With gorgeous backdrops of trees, rivers, and mountains, these courses are the perfect setting to enjoy 18 holes of golf. Here are the 5 best places to golf in the Smoky Mountains:
1. Bent Creek Golf Course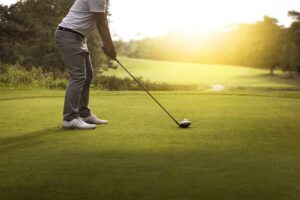 Designed by three-time Masters and British Open Championship Winner Gary Player, the Bent Creek Golf Course is a par 72 course where golfers can relax and enjoy the beautiful surroundings while playing an incredible game of golf. The front nine holes are located in the Smoky Mountains valley while the back nine travel into the Great Smoky Mountains National Park. Located conveniently on East Parkway, this course is close to all the hustle and bustle of Gatlinburg while providing a secluded feel. Bent Creek has been ranked one of the top 50 golf courses in the South by Southern Living.
2. Gatlinburg Golf Course
Named "Best Municipal Golf Course in Tennessee" by Golf Digest, the Gatlinburg Golf Course is a unique course that both beginners and experts love! The mountainous terrain and rolling hills make for an interesting and challenging game. Designed by William Langford, this course is filled with emerald fairways, beautifully wooded landscapes, and well-manicured greens that leave both locals and visitors in awe. The added layer of challenge the Gatlinburg Golf Course offers makes it easily one of the best places to golf in the Smoky Mountains.
3. Sevierville Golf Club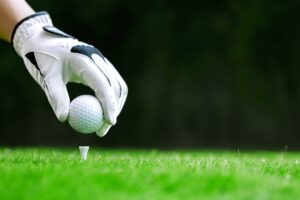 Just up the road from all the fun in Pigeon Forge, the Sevierville Golf Club is one of the top courses in Tennessee. Offering both par 70 and par 72 18-hole courses, the Sevierville Golf Club has courses suitable for all skill and experience levels. You'll love the views of the Smokies and the relaxing atmosphere that these courses offer. The Sevierville Golf Club is known to host several championship events and offers a full service pro shop for all your needs. You'll have everything you need to play your best round of golf ever when you play at the Sevierville Golf Club.
4. Island Pointe Golf Club
If you're looking to get away from the noise and fully immerse yourself in a good game of golf, then Island Pointe Golf Club is perfect for you! Ranked the 10th best golf course in Tennessee by Golf Magazine, Island Pointe has brought world class, daily fee golfing to East Tennessee. Set over 175 acres of sweeping knolls, lush valleys, and sharp bluffs, this course is breathtaking and makes for a beautiful round of golf. This challenging yet gorgeous course was designed by Arthur Hills and and is a can't-miss course on your next trip!
5. Gatlinburg and Pigeon Forge Mini Golf Courses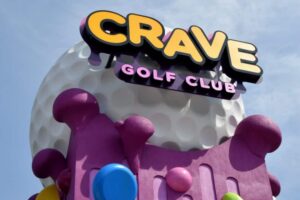 If you're bringing the family with you, try out a course that's a little more geared towards family fun! The various mini golf courses in Gatlinburg and Pigeon Forge make for a super fun afternoon with the kids! They'll love going for that hole-in-one or exploring the sights of these courses. Try Professor Hacker's Lost Treasure Golf for a fun outdoor round of mini golf while you search for "lost treasure". If you're looking for something with more fun options, visit Crave Golf Club, which also has both indoor and outdoor mini golf, an escape room, and mini bowling! The whole family will love these fun attractions and you'll get to practice your putt.
On your next trip to the Gatlinburg and Pigeon Forge area, make sure you check out the best places to golf in the Smoky Mountains. Looking for something a little different or you've already tried all these courses? Check out other places to golf in the Smokies and start planning your next trip today!