Does the sight of a really cute animal just make your heart swell? Well, you are definitely not alone. Tons of animal lovers visit Gatlinburg in hopes of seeing wildlife in the Great Smoky Mountains National Park or even just to watch dogs walk down the Gatlinburg Parkway. We've put together a list of 5 Gatlinburg activities that will make any animal lover's heart fill with joy.
1. Hang with the Penguins at Ripley's Aquarium
Penguins might not be able to fly, but that doesn't stop them from being probably the most adorable bird out there. At the Penguin Playhouse in Ripley's Aquarium, you can watch these amazing birds swim and play with each other. For an even closer look you can crawl through clear underwater tunnels that'll help you be in the middle of the penguin's habitat. Each penguin has a name tag, so you can get to know them on a personal level. It's one of those Gatlinburg activities for animal lovers that you just won't forget.
2. Look for Wildlife at Cades Cove
Cades Cove offers one of the best opportunities to view wildlife in the park. People have spotted lots of white-tailed deer as well as raccoons, coyotes, and groundhogs. You never really know what you're going to see when you look for wildlife at Cades Cove. Animal lovers will enjoy the variety of wildlife and also the fantastic scenery. You can view the wildlife from your car along the Cades Cove Loop, or keep an eye out when you explore the Cades Cove hiking trails!
3. Walk Your Dog on the Gatlinburg Trail
Bring along your best friend and hike the Gatlinburg Trail with them. At the Great Smoky Mountains National Park, dogs are allowed in campgrounds, picnic areas, and along roads as long as they are kept on a leash at all times. Dogs are allowed on two walking paths, the Gatlinburg Trail and the Oconaluftee River Trail. This is a great way for you and your furry friend to experience the Smokies together. Review these pet guidelines to make sure you and your dog have a fun and safe time.
4. Go Horseback Riding in the Great Smoky Mountains National Park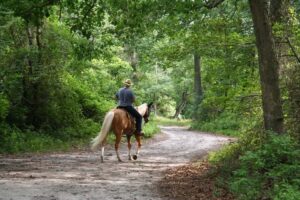 Enjoy a peaceful view of the Great Smoky Mountains as you go horseback riding in the Great Smoky Mountains National Park. This activity is great because you can experience nature while also bonding with a majestic animal. The horses are well-trained gentle creatures and animal lovers will really enjoy the chance to spendtime with them in the national park. Whether you're an experienced rider or just a beginner, you're guaranteed to have a great time horseback riding.
5. Dog Watch on Gatlinburg Parkway
This is one of those Gatlinburg activities that all depends on the day. Sometimes there are a lot of dogs walking on Gatlinburg Parkway and sometimes there are not. But if you're going to explore shops, attractions, and restaurants at Gatlinburg Parkway anyway, then you might as well see what dogs come your way. Just pick a nice spot to sit, and wait for the furry friends to come along.
Looking for more Gatlinburg activities to try? Check out these Gatlinburg attractions and see which would be the best for your vacation!