Nestled on 4 acres of beautifully landscaped gardens, you'll find Parrot Mountain. This very special attraction serves as a paradise for birds and a scenic escape for visitors. People of all ages will love experiencing its beauty. Here are 5 more reasons you don't want to miss Parrot Mountain in Pigeon Forge.
1. Hundreds of Exotic Birds
You can find hundreds of birds from all over the world at Parrot Mountain in Pigeon Forge. They are housed outside in beautiful, English style cottages. This way, they can enjoy the sun, rain, and fresh air, just as they would in their natural habitat. They are entertainers, and love to put on a show by singing, talking, and even dancing! As you stroll through the various gardens, you can watch toucans, magpies, and other beautiful birds as they sit on open perches or fly freely above you.
2. Perfect for Photo-Ops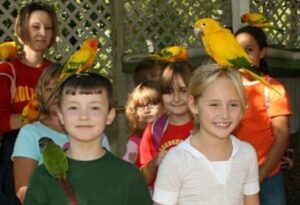 The garden scenery, and the beautiful waterfall outside the lory aviary make for picture-perfect backdrops. You'll have the opportunity to interact with the birds when you reach the bird garden. There are approximately 70 birds sitting on open perches, and you can feed them seed from your hand! You can also feed the lories nectar from a cup when you walk through the lory aviary. Have your picture taken as you enjoy these colorful creatures up close and personal. You can snap a few photos while sitting on our unique butterfly, peacock, and dragonfly benches as well.
3. You Can Purchase a Baby Parrot
When you visit the nursery, you can see newly hatched baby parrots and watch them being hand fed. While you're here, you will have the opportunity to see the birds at different stages of development. If you fall in love with one of them, you can even purchase your favorite baby bird and take it home with you! The trained staff will also provide instructions on how to care for your new family member.
4. Unique Gift Shop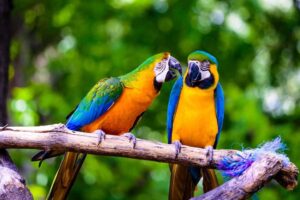 Be sure to stop by the gift shop before you leave! If you decided to purchase one of the baby birds, you can buy everything you need for them here. This English style cottage gift shop also offers garden and bird-related items for your home. It's the perfect place to find souvenirs for yourself and gifts for all the bird-lovers in your life.
5. Lunch with a View
You don't have to travel anywhere for lunch after you're done exploring. You can enjoy sitting out on the deck with a delicious lunch from the deli. There are tons of options to choose from including sandwiches, hot dogs, meatball subs, and more! You'll still be able to see the gardens and the birds as well as gorgeous views of the mountains! While you're eating your lunch, you can also listen to the soothing sounds of the waterfall and the songs of tropical birds.
Make your next trip to the Smokies one for the books when you visit Parrot Mountain in Pigeon Forge. Check out our Parrot Mountain coupon to save money on your ticket!