Whether you are visiting the Smoky Mountains during a heat wave in the summer months or in the coldest months of winter, you can snow tube all year long at Pigeon Forge Snow! This incredible indoor facility is the first attraction of its kind in the United States and offers an entire hillside of snow tubing action! The best part is that you can visit this incredible attraction at a discounted rate with our Pigeon Forge Snow coupon! Here is everything you need to know about Pigeon Forge Snow:
Location and Hours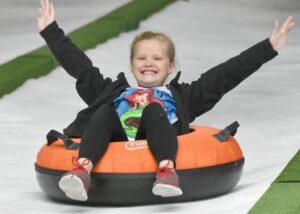 Pigeon Forge Snow is located in Pigeon Forge at 2533 Teaster Lane. You will know you have come to the right place when you see a large building covered with snowflakes and snow! The attraction is open Sundays through Thursdays from 10 a.m. to 9 p.m. and on Fridays and Saturdays from 10 a.m. to 10 p.m. Please note that the last ticket is sold 30 minutes before closing time.
About the Snow Tubing Runs
The snow tubing runs at Pigeon Forge Snow are a hoot for the entire family, so bring the whole gang out for a day of fun! Whether you are 3 or 93, everyone loves sliding down the hill! The snow tubing hills feature REAL SNOW that is made from 100 percent pure water with no additives of any kid. Pigeon Forge Snow uses a unique patented process to make the snow just as nature does, except in this case the snow is made every day of the year! This means that you can enjoy wintry excitement all year long, even in the middle of July! While it may seem hard to believe, the temperature inside of the building is always 60 to 70 degrees so you don't even need to bring a parka along for the fun.
Additional Activities
In addition to the snow tubing hills, Pigeon Forge Snow offers a huge Snow Play area! This means that you can build snowmen and snow forts between your snow tubing runs! The Snow Play area is fun for all ages, so even if you are not participating in tubing you can still play around in the slow! There is a second level in the building that is perfect for friends and family who want to watch their loved ones have a blast while tubing. This level includes plenty of great areas to relax, or you can get some food and drinks from the snack bar!
Snow Tubing Requirements
While most people can participate in snow tubing at Pigeon Forge Snow, note that you must be at least 38 inches and 3 years old. However, everyone can participate in the Snow Play area regardless of age or height. You can wear any types of shoes that you like, but you should avoid wearing flip-flops due to the nature of the activity. Since the temperature inside of the building is moderate, a long sleeve shirt or light jacket is ideal.
Check out our Pigeon Forge Snow coupon today to save money on this amazing indoor attraction in the Smoky Mountains! Also, be sure to browse our other amazing coupons to save BIG throughout Gatlinburg and Pigeon Forge!