Spring has officially sprung in The Great Smoky Mountains! You know what that means. It's time for the greatly-anticipated, award-winning Flower & Food Festival at Dollywood! This festival, presented by Covenant Health, promises to be fun for the whole family with stunning floral displays and mouth-watering culinary creations that are sure to enlighten all the senses and delight all ages.
Experience an exciting and exploratory adventure at this event where delightful surprises await at every turn. Guests will be awestruck by the larger-than-life floral displays that include a magnificent butterfly umbrella, several captivating animal scenes, and even a stunning display featuring a floral version of Dolly's mother quilting the famous Coat of Many Colors.
The fun begins as soon as guests step into the park where they will be met with the breathtaking sight of hundreds of vibrant umbrellas hanging above Showstreet, creating a stunning "Umbrella Sky" display that will leave guests in awe.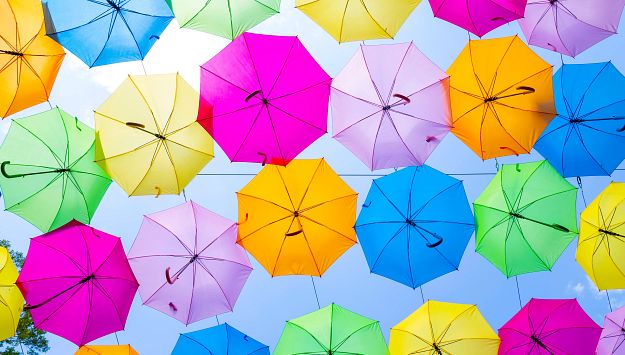 A highlight of the festival is the stunning displays of more than one million brilliant blooms arranged in various sculptures throughout the park. From towering topiaries to whimsical floral creations that depict the Smokies' favorite resident, the Black Bear, a walk through the park is sure to take your breath away.

Of course, no great festival is complete without a delicious assortment of different flavors and treats, and Flower & Food Festival does not disappoint. This year Dollywood has pulled all the stops to ensure guests are met with a whirlwind of memorable options that are perfect for posting about online. With such a wide array available, we can assure you that your toughest decision upon arrival will be whether to start with the Garlic Shrimp Mac & Cheese or the Tangy BBQ Meatballs.

Pro Tip: No matter which dish you start with, wash it down with Blueberry Boba Tea! Be sure to pick up a Flower & Food Tasting Pass, which allows guests to partake in multiple items at a number of culinary vendors throughout the event!
New to the festival this year is an exhibit that perfectly pairs flowers and food. Hug-A-Bee, owned by Sevierville native Alan Frankenburg, will be at the event displaying bee hives and showcasing beekeeping techniques while educating park guests about the importance of honey bees to our natural ecosystem. With quite the culinary resume under his belt, Frankenburg now works as the food and beverage director at The Ritz-Carlton Golf Club in Orlando, FL. He balances his day job with his passion for educating the public–and now Dollywood guests!–about the conservation of the honey bee.
The festival will run from April 21 through June 11, giving visitors to the park plenty of time to explore all that the festival has to offer.
If you're looking for a way to celebrate the changing seasons and indulge in some delicious food, the Flower & Food Festival is not to be missed. So come on out, enjoy some sunshine, and hey, why not stop to smell the flowers?
The Flower and Food Festival is sure to be the highlight of your springtime adventures!