If you want to go out for a nice, sit-down dinner, you have plenty of steakhouses in Gatlinburg to choose from. Even if you don't want steak, these restaurants have a ton of options for everyone. Check out these top 6 steakhouses in Gatlinburg and the Smoky Mountains:
1. The Alamo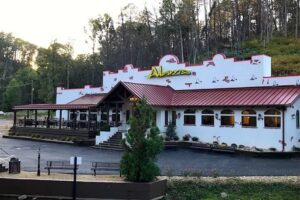 The Alamo is a local chain steakhouse in Gatlinburg, with another location in Pigeon Forge. Start out with bacon wrapped shrimp or mozzarella sticks. You'll find all kinds of seafood on their menu, such as stuffed shrimp and salmon oscar. They also serve oak fired pork chops, several grilled chicken entrees, and, of course, several cuts of steak. You'll want to save room for dessert so you can try the sea salt caramel cheesecake or the key lime pie.
2. The Melting Pot
Another great steakhouse in Gatlinburg you should try is The Melting Pot. This is a unique restaurant because they don't serve food like other restaurants. Everything is fondue! You can choose an appetizer with various kinds of cheeses and dip veggies, bread, and more. For entrees, you can get the Steak Lover, which includes filet mignon and two marinated sirloins. There's also The Classic with shrimp, steak, and chicken, or you can try the seafood entree. Whichever one you decide to get, you cook your meat at your table in your fondue pot. You'll definitely want to get dessert at The Melting Pot since you choose from different kinds of chocolate, and you can dip pastries, fruit, and more.
3. The Old Mill Restaurant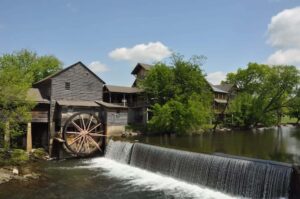 While some people may not think of the Old Mill Restaurant when they think of a steakhouse, they definitely serve steak! You can get grilled rib eye or grilled sirloin. Not only will you find steak, you'll also find all kinds of other southern specialties. You'll love the chicken pot pie, homemade meatloaf, chicken and dumplings, and fried pork chops. The Old Mill serves all three meals, so you could come for every meal and try something different!
4. Old Mill Pottery House Cafe and Grill
The Old Mill Pottery House Cafe and Grill may not seem like a traditional steakhouse, but they certainly have the food you might find at one! You can get a grilled ribeye sandwich or try the south west steak salad. There's also a chopped steak and philly cheese steak on their menu. You'll also find entree salads, chicken, pork, shrimp and grits, and so much more.
5. Quaker Steak & Lube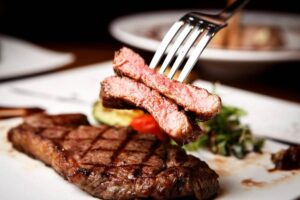 A steakhouse in Sevierville you should try is Quaker Steak & Lube. They have all kinds of steak options, such as the New York strip steak and top sirloin steak. You'll also find a ton of burgers and sandwiches on the menu you'll want to try. There's a buffalo chicken sandwich, a steak sandwich, and a fish sandwich. Their burgers are topped with all kinds of delicious toppings, but their Lubeburger has sautéed mushrooms, hot sauce, and bleu cheese dip on the side.
6. TGI Friday's
TGI Friday's has a little bit of everything if you aren't sure what you want to eat. They have flat iron, New York strip, and sirloin steaks. You can also get a variety of combos or a slab of baby back ribs covered in sauce. There are all kinds of burgers and sandwiches, as well as chicken and pasta options.
These steakhouses in Gatlinburg and the Smoky Mountains are just a few of the great places where you can eat. Want to save some money while you eat? Check our our dining coupons so you can save while you enjoy great food!