2017 is going to be a big year at Dollywood! The theme park recently announced the addition of two new Dollywood rides and two new special events for the coming season. Smoky Mountain Navigator has the scoop on all of the exciting attractions arriving at Dollywood next year.
2017 is the "Year of the Family"
Dolly Parton is calling 2017 "the year of the family", since all of Dollywood's new additions are designed to bring guests together with the people they love the most. In a press release for the theme park, Dolly explains 2017's theme:
"As everyone already knows, family is very important to me. These days, there doesn't seem to be enough time for families to be together, whether you're just a couple like me and Carl or you have 12 kids like my family did growing up. That's why we continue to add these new rides and shows for families to experience together. We have something for everyone, but even more important, we have something for you AND your family."
New Thrill Ride: Drop Line
The most exciting new ride announced for 2017 is Drop Line. Located in the Timber Canyon section of the theme park, this 200 ft. tower will provide guests with breathtaking views of Dollywood – until they go plummeting towards the ground in an exhilarating rush! Featuring almost 20 stories of thrilling fun, Drop Line is guaranteed to be a big hit with anyone who loves to get their adrenaline pumping.
New Coaster: Whistle Punk Chaser
Whistle Punk Chaser draws upon the Great Smoky Mountains' history as a logging community. A "whistle punk" is an old term for a lumberjack who operated a special steam whistle used during the logging process. The Whistle Punk Chaser will be a junior coaster with plenty of twists and turns that is designed to thrill young guests who aren't tall enough to ride the park's signature Thunderhead wooden coaster. Both of the new Dollywood rides are expected to debut in the summer of 2017.
New Special Event: The Enra Dance Group
Around spring break, Dollywood will host Enra, a Tokyo-based dance company that performed on America's Got Talent during the 2015 season. These talented dancers synch up their routine to beautiful multimedia displays to create a show that is truly unique. You can watch Enra's debut on America's Got Talent in the video below:
New Special Event: GREAT! Pumpkin LumiNights
Dollywood's Harvest Festival is extending its hours into the evening in 2017 for the brand new "GREAT! Pumpkin LumiNights". This special nighttime event will feature spectacular illuminated pumpkins and a glowing pumpkin trail. We can't wait to see these gorgeous displays next October!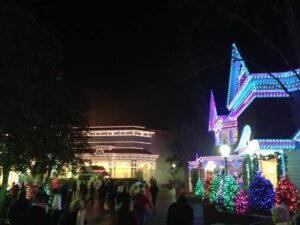 While we're looking forward to all of the new Dollywood rides and special events coming in 2017, there is still plenty of fun to be had at the theme park in 2016! For its Smoky Mountain Christmas Festival, the theme park has recently added a new Parade of Many Colors that includes holiday floats, festive characters, and stunning light displays. Dollywood is also producing its very own adaption of the classic Christmas tale, It's a Wonderful Life.
To start planning your next vacation in the Smokies, check out our complete guide to things to do in Pigeon Forge!