One thing you need before an action-packed day in the Smokies is a hearty breakfast, so satisfy your hunger with a visit to one of the pancake houses in Pigeon Forge! These popular restaurants are known for piling the flapjacks high on your plate, so bring your appetite and get ready for a delicious way to start your morning! Here are the top 3 pancake houses in Pigeon Forge that you need to visit during your vacation:
1. Smoky Mountain Pancake House
The Smoky Mountain Pancake House is a family owned and operated restaurant that has been serving scrumptious breakfasts since 1968! The made-from-scratch buttermilk pancakes feature a wide variety of toppings and fillings, including fruit toppings such as strawberries, blueberries and blackberries. Don't miss some of the specialty pancake flavors such as the Reece's Peanut Butter & Chocolate Chip Pancakes and Pecan Pancakes! The Smoky Mountain Pancake House also features all of your breakfast favorites, including omelets, ham and eggs, pork chops and country ham biscuits. As if that doesn't sound good enough, there are fresh baked waffles and stuffed French toast menu items to satisfy your craving!
2. Smoky's Pancake Cabin
Another one of the top 3 pancake houses in Pigeon Forge that you need to visit is Smoky's Pancake Cabin, where diners have enjoyed tasty meals for three generations! This pancake house offers the most unique array of pancakes that you will find in the Smokies, including their famous Pineapple Upside Down Pancakes! Some of the other speciality flavors include Lemon Berry Pancakes, Cheesecake Pancakes, Bacon Pancakes and Mixed Berry Pancakes. For those guests who prefer something other than pancakes, you will find omelets, waffles, egg platters and the best biscuits & gravy in Pigeon Forge! After having breakfast at Smoky's Pancake Cabin, you will have all the energy you need for a day at Dollywood or a hike through Great Smoky Mountains National Park!
3. Flapjack's Pancake Cabin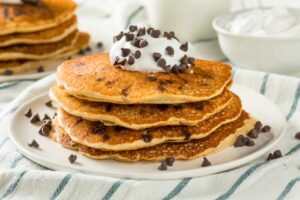 Flapjack's Pancake Cabin is well known for their country style breakfasts, cozy atmosphere and fresh comfort food that is made from scratch! The Sticky Bun pancakes have become especially famous, so be sure to try this mouthwatering combination of cinnamon swirled pancakes, pecans and cream cheese icing! There are tons of other fun pancake flavors too, including the Reece's Peanut Butter Pancakes, Mixed Berry Pancakes and Chocolate Chip Pancakes. Flapjack's Pancake House is also popular for their country skillets, which are hearty enough to get you right through the lunch hour! The menu includes skillets such as the Scrambled Egg & Cheese Skillet, Corned Beef Hash Skillet, Spanish Skillet and the Smothered Chicken Biscuit Skillet. There is even a special Junior's Menu for the children in your family where kids can choose from Jr Chocolate Chip Pancakes, Jr Bear Cakes, Jr French Toast and more!
Want to know where else you can get breakfast? Check out these other breakfast restaurants in Pigeon Forge!
Check out our coupons to these pancake houses in Pigeon Forge today to enjoy the best flapjacks in the Smokies! Be sure to browse our other amazing coupons too for BIG savings throughout Gatlinburg, Pigeon Forge and Sevierville!