If you want to explore the Smokies but don't want to go hiking, the best option is to go on a drive. There are several scenic drives in the Smoky Mountains you would enjoy exploring, with gorgeous mountain views, historic remains, and possibly even wildlife. Here are the top 4 scenic drives in the Smoky Mountains you should experience:
1. Cades Cove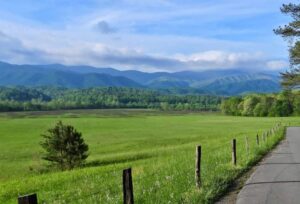 The most popular drive in the Smokies is Cades Cove. It is an 11-mile paved loop road in a valley surrounded by the mountains. There are beautiful views everywhere you look along this road. You can actually stop almost anywhere along the road and get out. There are several historic buildings along the Loop you can explore, including three churches, homesteads with cabins, and a grist mill. Many of the buildings have been moved from other areas in the Smokies to Cades Cove. This drive is also popular for wildlife viewing. Many people have seen black bears, white tailed deer, wild turkey, and many other animals. There are also several hiking trails that start along the loop. Everyone loves driving along the Cades Cove Loop.
2. Newfound Gap
Another great scenic drive in the Smoky Mountains is Newfound Gap Road. This road connects Gatlinburg, Tennessee to Cherokee, North Carolina. It is the lowest drivable pass through the Great Smoky Mountains National Park. The road sits about 1 mile high and is significantly cooler than the surrounding lowlands. When it snows, Newfound Gap receives significantly more snowfall than the areas around it. There are several stops along Newfound Gap, including Clingmans Dome and several hiking trails. The Appalachian Trail also crosses Newfound Gap. There are several incredible mountain views you'll want to take pictures of along the road!
3. Foothills Parkway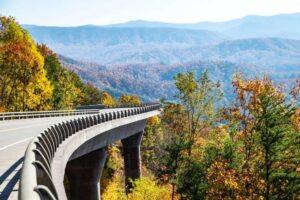 If you want a unique scenic drive in the Smoky Mountains, you should go along the Foothills Parkway. This road in the Smokies is different than others because it is not completely finished. Construction of Foothills Parkway has been in the works for 75 years. Small portions have been completed over the years, and there are still about 33.5 miles left to finish. There are several pull offs along the road where you can get out and stretch your legs and enjoy mountain views. There are also picnic areas if you want to have a meal while you enjoy the mountains.
4. Roaring Fork Motor Trail
Roaring Fork Motor Trail is another popular drive in the mountains people love to go on. It's a more scenic route with lots of trees and creeks. There is a waterfall you can see from your car, but there are also trailheads for several waterfall hikes along this road. Many people see wildlife along the Roaring Fork Motor Trail too. There are also quite a few places to stop and explore historic remains and stretch your legs.
These are some of the most popular scenic drives in the Smoky Mountains. Want to know what else you should do when you're in town? Here are the most popular attractions in the Smoky Mountains!